By Peter Alegi | February 13th, 2012 9 Comments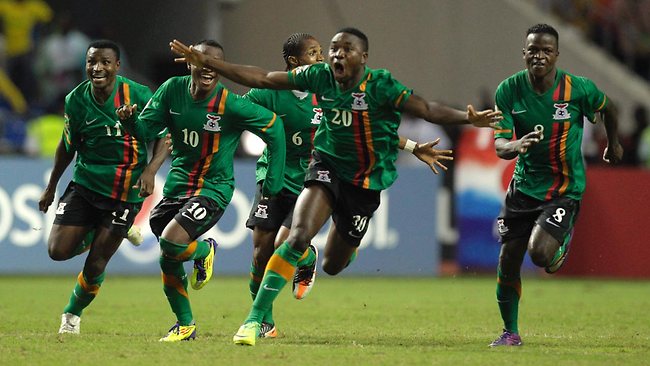 The room was tense. Zambia and Ivory Coast had played their hearts out in a goalless draw over 120+ minutes and now it came down to penalties. With me, watching a good stream on the big screen at work (on a Sunday), were three Zambians, a Kenyan, two American soccer aficionados, and my family.

Drogba had missed a penalty in regulation so the momentum seemed ever so slightly to favor the underdog Zambians. Chipolopolo prayed and prayed on the pitch, one of our Zambian friends commented wryly: "I didn't know Zambians were so religious!"

As Zambia's French coach Herve Renard would tell the media after the game, "I know we're not the best, but we have a strength and force that animated our team."

With the score tied at 7-7 in the shootout, Arsenal's Gervinho shot wide and Sunzu stepped up for Zambia's second chance to win.

Gooooooool!!!! The Zambians roared.

"I can't believe it happened in my lifetime," one of the Chipolopolo supporters exclaimed. We saluted the champions of Africa. Cell phones came out in an attempt to reach Lusaka.

The day after, not many people are at work, or so it seems . . . the Lusaka Times reports that "a thunderous welcome awaits the newly crowned Champions of African football" at Kaunda airport today.

With eight of the Zambian players based in South Africa, a national anthem based on Nkosi Sikelel', and venerable liberation struggle ties, some of us delight in the fiction that a little piece of South Africa won as well.

That Chipolopolo became champions of Africa in Libreville, where the 1993 air crash killed the greatest Zambian team ever, made this triumph all the more special.

Viva Chipolopolo Viva!