By Mohlomi Maubane | September 5th, 2012 7 Comments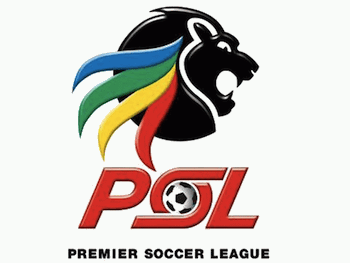 South Africa's Premier Soccer League is back in action. For the next nine months, we are assured of the thrills, spills, and glossy mediocrity of Africa's richest domestic championship. Things are already getting interesting. Newly promoted Chippa United fired their coach just two games into their maiden PSL campaign and Mamelodi Sundowns walloped crowd favourites Kaizer Chiefs 4-1 in the MTN 8 quarter-finals before crashing to a 2-1 home defeat against lowly Maritzburg United.

Off the pitch, the heir-apparent to the Chiefs' throne and incumbent team manager, Bobby Motaung (whose father, Kaizer Motaung, is the founder-owner of the club) was arrested and then released on bail in relation to allegations of fraud and corruption around the construction of the Mbombela Stadium used in the 2010 World Cup. It says a lot about the state of South Africa that the son of a multi-millionaire — and a wealthy man in his own right — is one of the people under scrutiny for illegal self-enrichment from an expensive tournament that was punted to economically uplift so-called ordinary men and women on the street.

The prelude to any forthcoming football season is typified by the movement of players, coaches and even administrators to new teams. While the top clubs made the obligatory headline-grabbing plunges into the transfer market, Bidvest Wits made the boldest acquisitions. (Formerly known as Wits University, "The Clever Boys" were bought by one of the country's biggest financial companies a few years back.) Their long-serving coach departed, a new CEO was appointed, and a number of high-profile players signed. Could these moves mark the dawn of a new era for the Johannesburg club? Or will they remain little more than a mid-table team capable of an upset or two and an occasional run in a knockout tournament?


Probably the most notable new Wits recruit is former Bafana Bafana captain, Aaron "Mbazo" ("The Axe") Mokoena. The player most likely to partner Mbazo in the centre of the defence is the man he replaced as national captain: Mbulelo "OJ" Mabizela. The progression of the two centre-backs' careers could not be more divergent. Yet they seem to capture the different experiences and trajectories of players who emerged in the PSL, made it the Promised Land of the English Premier League, and then returned home to play out their days.

Both men were born in 1980. Mbazo was the first to make it to the professional ranks. After being discovered by the iconic manager Jomo Sono at the age of 15, he made his professional debut two years later, and soon he was in the national team. His ascension to Bafana Bafana, however, was shrouded in controversy. Caretaker coach Jomo Sono selected the unknown and unproven Mokoena for the 1998 African Nations Cup in Burkina Faso where Bafana Bafana were to defend their continental title. Jomo Sono is not only a club owner and manager, but also a player agent of note, and there were rumblings that his selection of Mbazo was largely influenced by his personal interests in the young defender. The rumblings proved to be accurate.

Once Bafana Bafana made it past the group stages in Burkina Faso, Jomo left the Bafana camp in Ouagadougou and flew to Joburg under the guise of coming to enrol his son in school. Mbazo's subsequent move to Bayer Leverkusen suggests Jomo had different registrations to handle, more so since the first term of school in South Africa was already underway when the Nations Cup kicked-off. From Leverkusen, Mbazo moved to Ajax Amsterdam, but could not establish himself in the team. He was then loaned to Germinal Beerschot in Belgium, where he stayed for two seasons before signing for Racing Genk. In 2005 he made a dream move to Blackburn Rovers in the English Premier League, where he stayed for four seasons. Mokoena then closed his European voyage with three tough seasons at struggling Portsmouth. He captained Bafana Bafana at the 2010 World Cup in South Africa.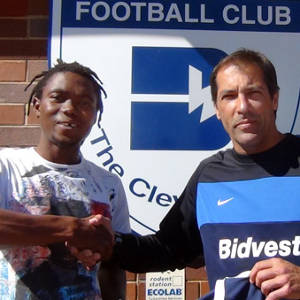 Mbulelo Mabizela, on the other hand, first came to national attention playing for Maritzburg City. This third division side caused a major upset when they knocked Ajax Cape Town out of the Bob Save Super Bowl in 2001. The Capetonians were still on a high having recently won their maiden trophy by beating Pirates 4-1 in the Rothmans Cup. But Ajax came unstuck against a Maritzburg side brimming with talented youngsters. Mabizela quickly signed a contract with Orlando Pirates.

Within a month of joining The Mighty Bucs, he took the field for his first Soweto Derby. And before he had played ten games as a pro, Carlos Queiroz drafted him into Bafana Bafana. At the tender age of 21, Mabizela was appointed the youngest ever captain of Pirates helping to guide the Soweto club to the league championship. After yet another impressive showing in the heart of defence against Tottenham Hotspur in a two-match series in 2003, Glenn Hoddle saw to it that "OJ" boarded the plane back to North London. Mabizela played in subsequent pre-season matches for Spurs against Luton and Sporting Lisbon, winning the hearts of the White Hart Lane faithful. Pirates accepted a £1 million transfer offer, the required working permit was sorted out, and just like that Mabizela joined Spurs.

In the first official game for his new team, Mabizela replaced Gus Poyet late in the second-half against Leicester City. Spurs were a goal down and being outplayed but after a few minutes on the pitch, Mabizela equalised with a stunning long-range shot. Freddie Kanoute later secured the three points for Spurs with a goal in the 90th minute. The foundation was laid for the making of a new South African football hero.

It was not to be. Mabizela went on a bender to celebrate his wonderful debut and, sadly,the partying never stopped. He attended training only when he felt like it, and was allegedly inebriated at one session. After fourteen months of shenanigans, Spurs sent him packing. Mabizela trained briefly with Fulham but failed to secure a deal and ended up signing for Valerenga IF in Norway.

After two years in Norway, he was spotted in Joburg, leading to speculation that he had been fired once again. His agent, Mike Makaab, disputed rumours saying Mabizela was only training in South Africa to recover from an injury. Oslo-based paper, Aftensposten, refuted Makaab's claims when it published an article quoting the Veralanga coach, Kjetil Rekdal, saying Mabizela was not part of his plans and therefore had been released. Still only 25 years of age, his career seemed far from over. Despite Mabizela losing the Bafana captaincy for arriving late to training camp, Mamelodi Sundowns — aka The Brazilians — signed him to a four-year contract.

Five months after joining The Brazilians, Mabizela received a six-month suspension for drug use. Sent to rehab he promised to mend his ways. But Mabizela's disappearing ways continued and so did the heavy drinking. In 2009 he was arrested for driving under the influence. Having played 15 games in three years for Sundowns, Mabizela was released with one year left on his contract. The next port of call was Platinum Stars in North West province and finally Bidvest Wits in 2011. By that time, truth be told, Mabizela might as well have joined me and my Zimbabwean brethren for pick-up games in Joburg's inner city parks.

Some opine that Mabizela was let down by his agent and former clubs. It's a logical view given that local football has no shortage of men (and some women) driven by a lust to feed their egos and fill their pockets. But Mabizela is part of the problem too. He had started out in the late 1990s as a teenage member of Sundowns' academy and was poised for a bright future in the game until his drinking and drug abuse undermined his career. Mabizela is just one of a collective of South African bad-boys that includes Jabu Mahlangu and Junaid Hartley — players who showed so much promise, but succumbed to the glitz, glamour and media hype that often distracts young black footballers in South Africa.

Mokoena and Mabizela represent two sides of the PSL coin. On the one hand, Mbazo stayed focused and slogged it out. For a player of his profile, media coverage has been rather thin. He is a Carlos Puyol/Gary Neville kind of player: not blessed with loads of talent but a damn hard worker. He is an example of how the right attitude and professionalism are crucial for football success. On the other hand, Mabizela never understood or appreciated how gifted he is. Now 32 years old, Mabizela's career is in its twilight. I wish him all the best in the new PSL season for I suspect that when he eventually retires and looks back on what might have been, he will be haunted by what he sees. All he had to do was put in the hard work and live a life most young men can only dream of: being an overpaid professional athlete.

The last two PSL seasons brought us extraordinary endings with the title decided in the last ten minutes of the season, so why bring up this Mokoena/Mabizela business? As the 2012-2013 PSL gets underway, it is important to keep in mind that it does not matter where you are on the log after the first few weeks. What really matters is where you will be after 30 matches.