By Peter Alegi | December 27th, 2011 1 Comment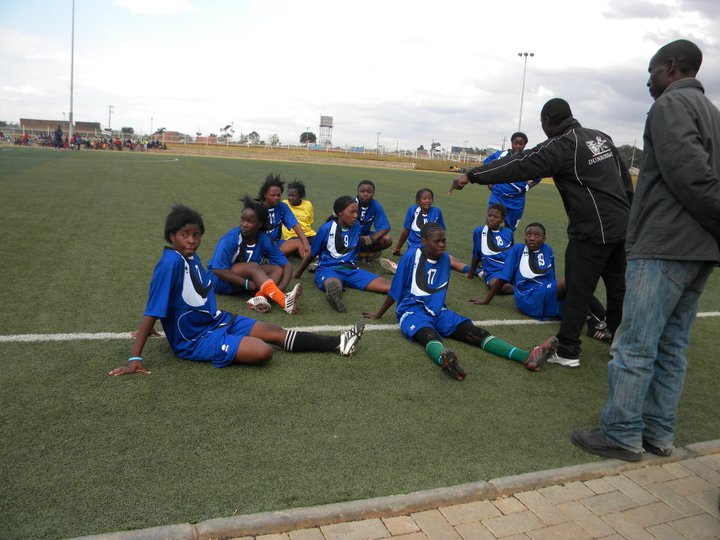 Photo: Breakthrough Chiparamba girls football team, 20 July, 2011, Olympic Youth Development Center, Lusaka, Zambia. Courtesy of Hikabwa Chipande.

Training and Developing Coaches in Southern Africa: Licensing and Administration

Guest Post by Hikabwa Decius Chipande (@HikabwaChipande)

Football is the most popular sport in southern Africa but there are few qualified coaches at all levels. Prior to 2010 most top league clubs in southern Africa were coached by people without even a basic qualification.

One major problem is that Southern African countries have a haphazard approach to coach education. What had been happening until recently was that any person could come to the region, conduct a coaching course for a few days, and declare the participants as coaches with questionable certificates of limited value. It has been, therefore, very difficult to know the actual capabilities of local coaches and their qualifications because there had been no set benchmarks. South Africa is an exception in that it has the South African Qualification Authority (SAQA), although its effectiveness remains debatable.

Winds of change are blowing in the region. In the past three years two initiatives were developed to standardize and ensure the quality of coach education in southern African countries. Following the FIFA Financial Assistance Program (FAP), which was initiated by João Havelange and implemented by Sepp Blatter in 1998, CAF in 2009 took advantage of this financial assistance and started implementing the CAF Licensing System.

Under this system, CAF is financially supporting national associations to train coaches and upgrade their qualifications. The starting point is the CAF requirement that by 2012 all premier league coaches must hold a minimum of 'C' license. (The CAF coaching licensing system progresses from a 'C' to 'A' license and then to a Pro-license.) The confederation also directed each association to form a technical department with a technical director who is paid by funds from FAP to focus on "Football for All" and coach education.

Despite FIFA and CAF being deeply rooted in murky politics and dubious management practices, this new program has led to the training of hundreds of coaches in the past two years. In others words, it is a worthwhile initiative in terms of coaching and football development in the region.

The second initiative is from the Supreme Council for Sport in Africa (SCSA) Zone VI, an inter-governmental body in-charge of sports in southern Africa headed by the council of Ministers of Sports (cabinet members in their respective governments). The body had been pondering why southern Africa was performing poorly in African sports competitions, despite having the most organized regional sports body on the continent. SCSA Zone VI conducted a survey in 2007 to look at existing sports education systems in member states. The results were disappointing. Apart from South Africa, countries did not have any working system or framework for coach education. Given the limited financial capabilities of member states in the region, the council of ministers decided that the regional body in consultation with all sports stakeholders should develop an overall regional framework to provide common reference points for accreditation, recognition, and support of coaches.

Each country agreed and offered to make available the required financial resources to develop coach education in order to improve the quality of sports in the region. The program started in 2009 and it is in the process of harmonizing all existing frameworks to come up with a general framework. Most countries have fulfilled their commitment by providing the required resources. The project is linking up with the CAF licensing system and progressing quite well.

Two important factors have continued hampering the development of local football: sport politics and infighting in governing bodies. At regional level, despite agreements being signed between the regional sports bodies such as SCSA Zone VI and Confederations of Southern African Olympic Committees (COSANOC), there are ongoing conflicts over who is in charge of sports in the region. At national level, the Ministries of Sports (or Departments of Sports) are not always pulling together with National Sports Councils/Commissions (NSC). The NSCs are often fighting with National Olympic Committees over power and control of national sports associations/federations. In the latter bodies, power struggles and mishandling of scarce material resources are a constant problem.

In most southern African countries government officials covet recognition and influence in football circles because governments pay for most of the national teams' expenses. This tendency is strongly resisted by football associations who only want financial support from government. Any attempt to influence decisions over how football money should be spent can be translated into government interference in football administration, which would violate FIFA policy and trigger sanctions. Within football associations, bitter feuds are common, especially over the appointment of national team coaches, the selection of national team players, and over who has the overall mandate of managing the game in each country. Now that a licensing system is finally in place and starting to make a positive impact in southern Africa, football politics continue to drain energy and take focus away from coach education and development.