By Peter Alegi | April 2nd, 2012 2 Comments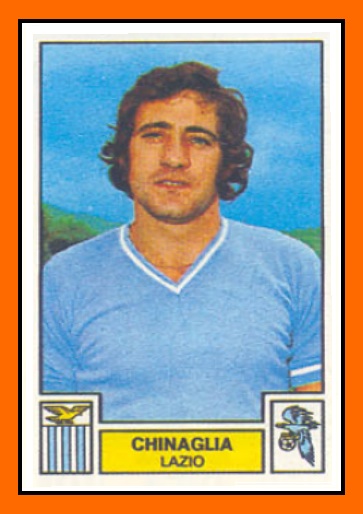 Giorgio Chinaglia died yesterday, April 1, in Florida at the age of 65. The sad news brought back a flood of memories. I remember how as a kid in Rome in the 1970s, my grandfather had a funny habit of responding to my detailed stories about meaningless youth football matches by saying: "You are just like Giorgio Chinaglia." Maybe it was the curly hair, pronounced chin, and slightly curved shoulders. Or maybe it was the unmitigated joy of my goal celebrations, I don't know.

I was not a Lazio supporter, but I liked how my grandfather connected me to the prolific striker who had recently won the scudetto (Italian league title) and then had joined the most glamorous team in the world: the New York Cosmos. Growing up in a bicultural family (American dad / Italian mom), I also shared a linguistic connection with Chinaglia. His family had immigrated to Wales after World War II (his father found work in a foundry) and he had started his professional career at Swansea City before returning to Italy. This Welsh background explained his "Long John" nickname, inspired by Juventus's Welsh center-forward John Charles of the late 1950s and early 60s. I was too young to watch the broadcasts of the 1974 World Cup, but I knew of Long John's performance in Italy's opener against minnows Haiti. With Italy leading 2-1, Chinaglia was substituted and refused to shake coach Valcareggi's extended hand, offering instead a theatrical "vaffanculo" ("fuck off") for the television cameras. Needless to say, that was the end of Chinaglia's Italy career.

Two years later Long John left for the New York Cosmos. That same summer my family traveled to the U.S. to take in the 1976 Bicentennial celebrations. My two older brothers had the super-cool honor of meeting Pelé, then in his second season in New York, at an international gathering of Boy Scouts. After Chinaglia's two-goal debut for Cosmos in Foxboro, Massachusetts, Pelé explained to the media that, "Having played for the Italian national team [Chinaglia] not only will help us but also the players around the NASL."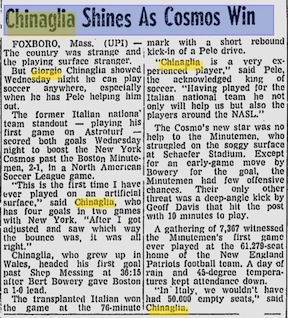 Fast forward to 1980-81. I am due to spend an academic year with my family in New Haven, Connecticut. As I prepare to leave Rome, I pack my football shoes and kit into the suitcase, thinking maybe, just maybe, I can survive a year in the Sahara of Soccer! I mean, who moves to a place without Serie A? Without mid-week European club competitions? Without World Cup qualifiers? The only solace, a small one, came from knowing that it couldn't be all bad if Giorgio Chinaglia and the Cosmos were there.

On the school playground in America there was no soccer, only "kickball" — a kicking version of baseball. Very strange. Thankfully, I did end up on a soccer travel team. We had a grass pitch — an unheard of luxury back home — and sported orange jerseys and black shorts like the Dutch masters of Total Football. I chose number 14 in honor of one of my idols: Johan Cruyff, by then a NASL transplant like Long John. My mom started clipping articles (and the occasional photograph) out of the local paper chronicling my Chinaglia-esque scoring feats. In the pre-satellite and pre-Internet era, I nourished my football jones with Cosmos highlights while ingesting far too much Major League Baseball and NFL football. I never went to Giants Stadium to see him play, but Chinaglia and his transnational crew of soccer celebs did sustain me through the year. When I returned to Rome, I had the gentlest of revolutionary hunches: soccer might, in the not-so-distant future, "make it" in America.

I found myself back in New Haven in August 1985, this time for good, but the Cosmos and the North American Soccer League no longer existed. As many others have noted, Long John, the Cosmos, and the NASL did help nurture the growth of club and high school soccer in many parts of the U.S. The quality of play was improving, as were the coaches, girls were heavily involved in the game, and ordinary Americans seemed slightly less clueless than a few years before. Some of my school mates regaled me with tales of regular road trips down Interstate 95 on hot summer weekends packed in the family station wagon to take in live Cosmos soccer! As my friend Hamilton reminds me: "Certainly, along side Pelé, Beckenbauer, Carlos Alberto, Shepp Messing, and so many other greats, Chinaglia was a finisher worthy of the adoration of just about any American 8-year-old; especially those completely ignorant of the international game at the time."

Coverage of Chinaglia's death in the Italian press has ranged from nostalgic to factual. Many articles described his struggles in Italian football management, his shady financial dealings, and how a few years ago he became a fugitive from Italian justice after an arrest warrant was issued in relation to his attempt to buy the Lazio team with laundered money linked to the Camorra (the Neapolitan mafia). But let's close on a high note, taking our cue from Lazio supporters who like to remember Long John running towards the curva Nord after a goal as they chant: "Giorgio Chinaglia, è il grido di battaglia" (GC is our war cry).