By Sean Jacobs | March 4th, 2010 3 Comments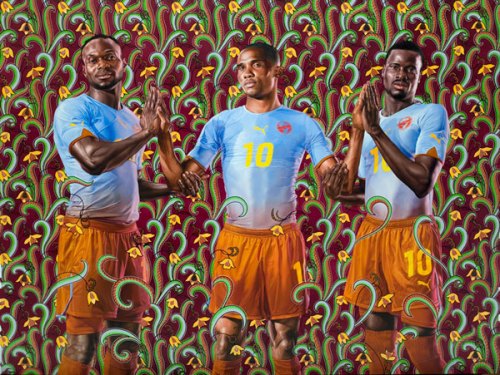 The German shoe and sportswear company, Puma, sponsors at least 12 African national football teams–five of which qualified for the 2010 World Cup. To commemorate the World Cup year (and because it is good PR and to sell shirts), Puma commissioned artist Kehinde Wiley to create four new works of arts inspired by the footbal stars Samuel Eto'o of Cameroon, John Mensah of Ghana and Emmanuel Eboué of Ivory Coast.  Wiley painted individual portraits of the players and a fourth painting (above) of the three players "symbolizing the united countries of Africa." The players are wearing the "Unity" kit, a limited edition uniform designed to be a third kit (apart from home and away kits) shared by all African teams, symbolizing unity.

Here's a link to a video of Wiley at work on the project with Mensah, Eboue and Eto'o.

The paintings will be exhibited during the World Cup in South Africa.