By Peter Alegi | June 30th, 2012 6 Comments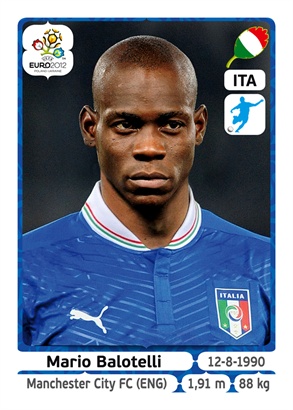 The Africanization of Italy may have started 2200 years ago as Hannibal of Carthage led his troops and elephants across the Alps on the way to Rome, but Mario Balotelli's two-goal performance in Italy's defeat of Germany in the Euro 2012 semifinal may be mainstreaming it.

Italians across the political spectrum are gushing in their praise of the 21-year-old striker. "Pride of Italy!" screamed the web site of La Gazzetta dello Sport, which earlier in the week had printed an insulting cartoon of Balotelli as King Kong by Valerio Marini (see below). (Despite an outpouring of criticism from readers and on social media, the paper could only muster this sad excuse for an apology: "if certain readers found the cartoon offensive, we apologize.")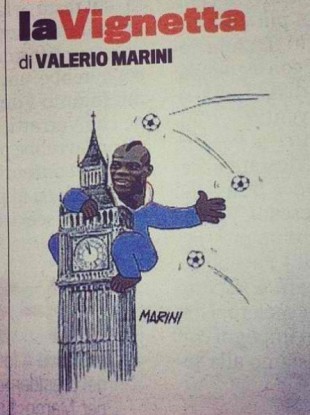 Earlier in the tournament Balotelli had won accolades for his acrobatic overhead strike against Ireland and for his impeccable penalty which opened the shootout against England (scored against Man City teammate Joe Hart). Now, on the eve of the final against Spain in Kiev, ordinary Italians and the media are comparing Balotelli to Gigi Riva, Totò Schillaci, and Gianluca Vialli — illustrious Azzurri of the past who transcended the football pitch to become popular icons of national culture. A big and very noticeable difference between Super-Mario and his predecessors, of course, is that Balotelli is black — the Palermo-born son of the Barwuahs from Ghana who was adopted by the Balotellis of Brescia. He is the first Afritalian football superstar.

Super-Mario's central role in potentially ushering in a new phase in the Africanization of Italy is reflected in Italian media stories highlighting how Mario is like you and me: he loves football, family, pizza, and hanging out with his friends. In a country where mothers are sacred and where the Virgin Mary is venerated almost as much as her more famous son, Mario's loving embrace of Mamma Silvia in the stands at the Warsaw stadium shot an arrow into the heart of every Italian. "Boastful and 'mammone', Balotelli represents the prototype of the Italian," wrote Il Giornale, a conservative paper owned by Silvio Berlusconi's brother, Paolo.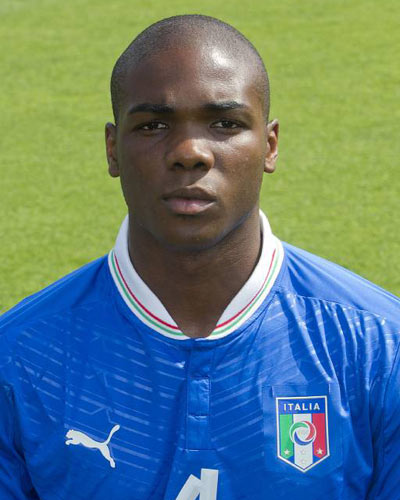 And Balotelli is not an isolated case; he's not even the only Afritalian in the Euro squad. Sitting on the reserves' bench is 24-year-old Angelo Obinze Ogbonna (at left), a central defender who plays his club football for Torino. Born in Cassino, near Rome, of Nigerian parents, Ogbonna was recruited into the Torino youth academy at age 14 and played his first serie A match at 19. Like Balotelli, Ogbonna speaks Italian without a trace of accent. The experiences of Super-Mario and Ogbonna open up an opportunity to consider the history of Afritalian footballers.

Let's start with Claudio Gentile. He was born in Tripoli, the son of a Sicilian father and a Tripoli-born mother possibly of Italian background, and grew up playing street football in Libya before moving to Como in 1961 with his family. Nicknamed "il libico," Gentile had his best years at right back for Juventus and Italy in the 1970s and early 1980s, forming with Dino Zoff, Antonio Cabrini, and Gaetano Scirea one of the stingiest defensive lines of all time. Gentile's ferociously effective man-to-man marking of Maradona and Zico in the 1982 World Cup, which Italy won, has become the stuff of legend.

We had to wait nearly two decades for the next Afritalians to make an appearance in the national team. In 2001, Fabio Liverani, the Rome-born son of a Somali mother and Italian father, made his international debut in a friendly against South Africa. Despite a solid career as a midfielder with Lazio, Fiorentina, and Palermo, Liverani only played twice more for the Azzurri. Around the same time, Matteo Ferrari, the Algeria-born son of an Italian father and a Guinean mother, played eleven times in the heart of Italy's defense. Prior to Balotelli's success, Ferrari had held the record for most international appearances for an Afritalian. (He now plays for the Montreal Impact in MLS.)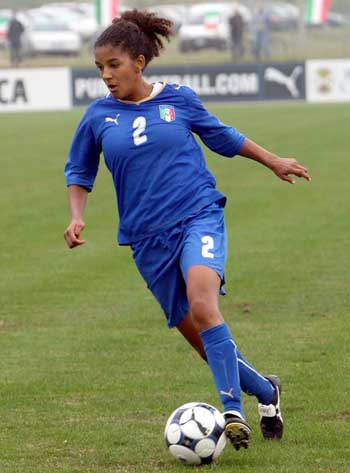 There are other players of African blood in Italian football. Among them, Stephan El Shaarawi, Stefano Chuka Okaka, and Fabiano Santacroce (of Afro-Brazilian/Italian parentage) have been capped at junior level. There is also a female Afritalian: left back Sara Gama (at right), who also earned the distinction of becoming the first Afritalian woman to captain the U-19 national team, and leading them to the 2008 European title.

Mauro Valeri, a sociologist and author of La Razza in campo: Per una storia della Rivoluzione Nera nel calcio (EDUP, 2005) wonders if the increasing presence of black players at junior and senior level is "perhaps a sign of a transformation underway, of the affirmation of a Black Revolution [in football] that for more than a decade has been unfolding in Italy." While structural changes would be necessary for such a shift to be lasting and meaningful, social perceptions of Afritalians may be changing thanks to Balotelli's sudden popularity. In a grim age of austerity and structural adjustment, Italians seem eager for another taste of Super-Mario-triggered football euphoria.
Tags: Afritalians, Angelo Ogbonna, Euro 2012, Fabio Liverani, Italy, Mario Balotelli, Matteo Ferrari, race, Sara Gama, Stefano Okaka, Stephan El Shaarawi
Filed under: Players