By Peter Alegi | April 21st, 2014 | 3 Comments
For as long as I can remember, soccer in the United States has been referred to as the "sport of the future." Last week's "Soccer as a Beautiful Game" international conference at Hofstra University buried this notion once and for all.  Hofstra history professors Stan Pugliese and Brenda Elsey did a marvelous job organizing the global conclave.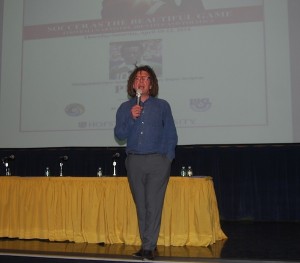 I arrived at the largest fútbological congress ever held in the U.S. just in time to hear David Goldblatt's keynote address. Expecting a brilliant presentation based on his new book on Brazilian futebol, Goldblatt surprised many of us by delivering a democratic populist manifesto for the transformation of the world's game.  Goldblatt's passionate speech for reform appealed to the suffrage of ordinary fans. (Click here and here to read more about this talk.)

Energized by Goldblatt's provocative address, I had to choose which of several enticing but concurrent panels to attend.  As a historian, I decided to privilege sessions with historians, Global South topics, and presentations by Football Scholars Forum members.  Much like football radio broadcasts of the pre-satellite TV era, many of us kept track of the action unfolding in other panels via the active Twitter back channel (#HUsoccer @HofstraSocConf).