By Peter Alegi | November 18th, 2010 2 Comments
Juan Agudelo — six days shy of his 18th birthday — scored the only goal of the game in the 84th minute and spoiled a massive party in Cape Town. 51,000 of us were on hand at Green Point stadium for this glossy friendly on a warm and breezy late spring evening.

As we walked towards the ground, pubs were full of Bafana fans wearing the yellow national team shirt.
A few Americans chanted their support for the stars-and-stripes and confidently predicted a victory.  The World Cup atmosphere was back (minus the FIFA branding).


Inside the arena a welcoming vibe enveloped us. The sweet smell of football. The energy of a racially mixed and patriotic crowd. President Zuma meets the teams on the pitch. All for a good cause: the Nelson Mandela Children's Fund. Fans belt out South Africa's multilingual national anthem in unison: a rare, precious moment of communitas, football's unique contribution to a fractured society searching for a shared national identity.

Unfortunately, the football on the night was crap. Let's call a spade a spade. A strangely lethargic Bafana Bafana side knocked the ball sideways and backwards, while the second-string Americans kept their shape and every once in a while hoofed the ball forward hoping for a break. Still, the two best chances fell to the hosts who, characteristically, squandered them. 0-0 at the half. Perhaps the one silver lining for SA was Leeds striker Davide Somma's positive debut.

Play resumed at the same monotone pace, passes going astray, nobody really able to turn defenders or take a decent shot at goal, and a series of edgy tackles that did little to improve the flow of the game. A steady stream of substitutions made matters worse. The Mexican wave takes off, a universal symbol of bored fans.



The concocted drama of penalties beckoned until the Colombian-born Agudelo, left wide open in the box, capitalized on an inviting assist by Mikkel Diskerud, a former Norwegian under-19 international whose mother is American. Bafana pressed for the equalizer, but it was too little too late.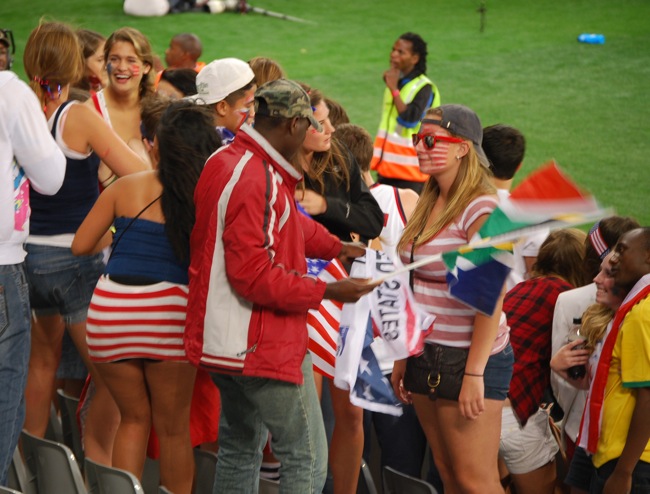 As the home crowd filed out quietly, a group of vociferous American college students wrapped in red-white-and-blue began their celebrations. I couldn't help but think back to the last time South Africa played in Cape Town: a 3-1 loss to Zambia in September 2007. Is the Mother City cursed?