By Liz Timbs | January 21st, 2014 1 Comment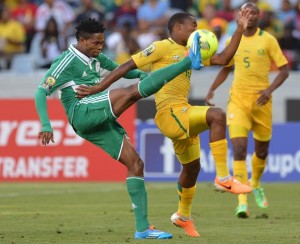 Guest Post by Liz Timbs (@tizlimbs)

"We indeed have a crisis of monumental proportions. We don't have a crisis of talent, we have a crisis of putting everything together," thundered South African Sport and Recreation Minister Fikile Mbalula following South Africa's 3-1 loss to Nigeria in Cape Town on Sunday, which eliminated the hosts from the 2014 African Nations Championship.

Mbalula publicly lambasted the national team, declaring that what he witnessed "was not a problem of coaching, it was a bunch of losers." This "bunch of losers" and "unbearable useless individuals," Mbalula continued, humiliated their country: "In Africa we have won nothing—we are the laughing stock. Even Madiba Magic would not have worked. This generation of players we must forget."

Danny Jordaan, president of the South African Football Association and ex-CEO of the 2010 World Cup Local Organizing Committee, also criticized Bafana's performance in the media, though in slightly less forceful terms than Mbalula. Jordaan saw the team's elimination as an embarrassment, noting that SAFA had been "dismissive and even insulting to the quality of football on the continent." He highlighted a deficiency in the "preparations, philosophy and technical staff."

The reaction from Bafana Bafana head coach, Gordon Igesund, was decidedly tamer. "There are no excuses," Igesund declared, "We lost to a better side . . . at the end of the day we have to look at ourselves and admit we were just not good enough even though we gave it our best shot." Midfielder Siphiwe Tshabalala echoed Igesund's understated honesty in his comments to the press. He apologized for the team's debacle, adding that: "we are hurting and we know the nation is also hurting and we are not proud of not doing well but we just have to apply ourselves better in the future."

Tshabalala and Igesund's comments cut straight to the realities of why South Africa lost to Nigeria. Bafana certainly did not lose because goalkeeper Itumeleng Khune withdrew due to an ankle injury that threatened his participation in an upcoming Kaizer Chiefs league match against Mamelodi Sundowns. Let's acknowledge the painful reality and move on: The South African national team is, at best, mediocre; we have to face this truth.

What makes digesting this bitter pill more difficult is that Nigeria did not even field her best team. The CHAN competition is limited to home-based players, which meant that Nigerians playing in European clubs were ineligible for selection unlike most Bafana regulars who ply their trade in the well-endowed domestic Premier Soccer League. Despite this apparent advantage, Bafana was no match for a team of young Nigerian players with limited experience in international competition. The visitors delivered three staggering blows and came close to a fourth before Bernard Parker scored a consolation penalty for the hosts.

Jordaan and Mbalula's frustration with the national team is understandable. South African fans were frustrated watching the game. The problem is not that politicians and football officials were voicing their legitimate concerns, but rather the way in which they were framing these issues. These micro-level critiques, while useful in expressing frustration and releasing tension, are unproductive for getting to the root of South African football's larger problems.

While not solely responsible, SAFA should be assisting in whatever way possible to develop talent at the grassroots level in order to eventually effect positive change at the highest level. Jordaan stated that SAFA is aware of the need for "big changes" at "grassroots level," adding that "If we want to build a winning team for the future we have to have efficient structures in place right from school level." Yet this vision is narrowly framed in terms of how this vaguely defined development would result in better showings by the senior national team.

Jordaan is right that grassroots development is desperately needed. But perhaps not in the ways he and others like Mbalula are suggesting. Mohlomi Maubane spoke to this important issue in a 2012 post on this blog. "SAFA's understanding of the 'bigger picture' in domestic football is confined to four-year cycles for the men's national team," Mohlomi wrote. "But local football needs sound management, serious youth development for boys and girls, better coaches' training, and infrastructural improvements at the grassroots."

Using football as a tool for development not only helps to nurture athletic talent (as Jordaan noted) but also works to build healthy, productive members of society. As the remarkable work of Izichwe Football Club in Pietermaritzburg, KwaZulu-Natal demonstrates, this kind of development takes time, work, and resources. While the results won't be seen right away, South African football can move forward through community-based, player-centered, long-term, sustainable approaches to youth and coaching development.

Minister Mbalula was correct in one regard: "We indeed have a crisis of monumental proportions." Hopefully, the latest Bafana loss will inspire South African sport administrators and partners to invest the necessary resources and knowledge to go beyond crisis management and move closer to fulfilling South Africa's great football potential.


*Liz Timbs is a PhD student in African history at Michigan State University. Her research interests are in the history of health and healing in South Africa; masculinity studies; and comparative studies between South Africa and the United States. Follow her on Twitter: @tizlimbs.