By Editor | November 16th, 2013 1 Comment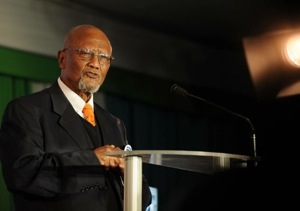 Guest Post by Khaya Sibeko (@KhayaSibeko1)

JOHANNESBURG—On October 30, 2013, Leepile Taunyane, South Africa's legendary football administrator, died at the age of 85. It would not be an exaggeration to compare his passing to the burning of a national archive.

Born in Alexandra, Johannesburg, Taunyane grew up playing football in the streets and then joined Rangers in the early 1950s, a club known for its technical prowess and feared for its lineup stacked with ex-convicts. After hanging up his boots, in the 1960s Taunyane started a career as a football organizer and served as principal first at Alexandra High School and then at Katlehong High.

His administrative career saw him involved in every major transformation in the South African game. Taunyane worked with Bethuel Morolo at the South African Bantu Football Association and then with his successor, George Thabe. In the mid-1980s, an era of massive political and social upheaval in apartheid South Africa, Taunyane led the Transvaal affiliate of Thabe's Africans-only organization to throw its weight behind the National Soccer League. A precursor of today's Premier Soccer League, the NSL was a new, racially integrated league launched in 1985 as a break away league from Thabe's NPSL. Taunyane became the NSL's first president.

In a recent City Press article, Premier Soccer League and Orlando Pirates chairperson, Irvin Khoza honored his mentor: "I was his student when he was a teacher. He recruited me at the tender age of 14 to become a member of the Alexandra Football Association. We later rubbed shoulders in the national league and federation structures. Dr. Taunyane personifies the values that govern my decision-making and actions, consciously and unconsciously."

Taunyane was "the last of the Mohicans" of football administrators of a venerable generation. Even when others around him found the temptations of post-isolation football too much to resist, Taunyane remained a diligent and incorruptible servant of the beautiful game. It was no surprise when, a few years ago, the PSL bestowed the honorific title of Life President.

It is not enough to celebrate and award titles, of course. By publicly recognizing Taunyane's great legacy, local football administrators should strive to follow his exemplary managerial conduct. That would be the best way to remember and honor a "son of the soil" who spared neither time nor energy in the service of football and education.

Undoubtedly, the gods of South African football have placed Taunyane alongside Bethuel Mokgosinyane, Solomon Senaoane, Dan Twala, Albert Luthuli, Henry Ngwenya, George Singh and so many elders of the distant past, men whose efforts shaped our football in the era of segregation and apartheid. Without the contributions of men like Taunyane, South Africa would never have hosted the 2010 World Cup and the PSL would not be among the ten richest leagues in the world.