By Peter Alegi | December 13th, 2011 4 Comments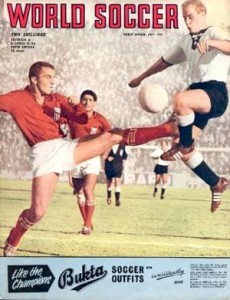 Stryker-Indigo New York, a private multi-media film and print production company, has announced the acquisition of a major collection of 1950s-1960s 8mm and 16mm soccer films.

The film footage, featuring both university and international teams playing in American cities, contains rare home movie images of the history of the game in the United States. For example, there is footage of the first leg of the 1961 U.S. Open Cup Final between United Scots of Los Angeles and Ukrainian Nationals of Philadelphia at Rancho La Cienega Stadium in LA (now Jackie Robinson Stadium).

According to the Stryker-Indigo web site, its Futbol Heritage Archive houses nearly 9,000 historic photographs, slides, newspaper clippings, postcards, trophies, jerseys and artifacts. Following the closure of the US Soccer Hall of Fame in Oneonta, NY, researchers have lost access to an archive of more than 80,000 items, including the North American Soccer League archive and the 1994 World Cup archive. It is hoped that private collections such as Stryker-Indigo's film footage will be made accessible to soccer researchers and aficionados so that the history and culture of the game can be properly recorded and disseminated.

***

Thanks to David Wallace for inspiring me to write this post.