By Liz Timbs | September 20th, 2013 8 Comments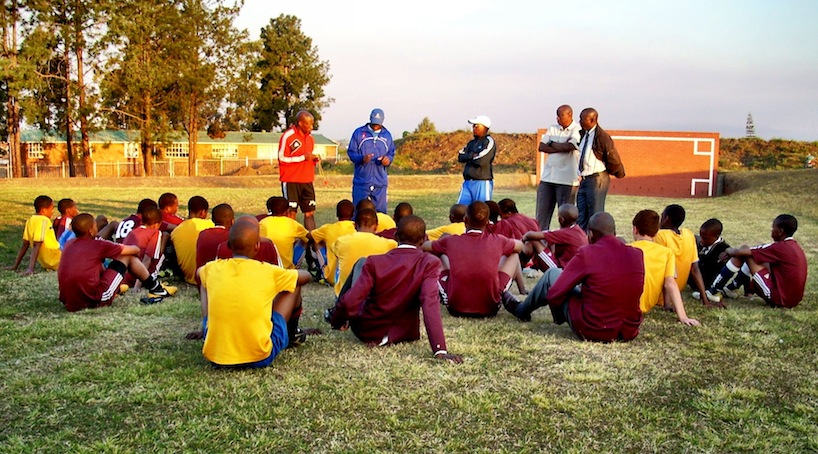 Guest Post by *Liz Timbs

In August 2013, I had the privilege of spending three days with the Izichwe Football Club in Pietermaritzburg, capital of South Africa's KwaZulu-Natal province. During my brief stay, I observed training sessions, visited players' high schools, and interviewed some of the young men and coaches. The quotes below come from these conversations.

Every weekday afternoon at the University of KwaZulu-Natal campus in Pietermaritzburg, two dozen 10th grade-boys come together on a humble football pitch to hone their skills at Izichwe Football Club. Established in 2010 and named after the first military regiment (ibutho) commanded by Shaka Zulu, the club is "not just about kicking a ball," says Thabo Dladla, founding director of Izichwe and Director of Soccer at UKZN. It is also about developing young men of character and respect who represent their communities and themselves with pride and honor.

Respect (inhlonipho in the Zulu language) and discipline (inkuliso) are core values at Izichwe as they are in Zulu culture more broadly. The coaches refer to the teenagers as amadoda (umarried young men) and even baba (father) to stress the importance of carrying themselves in a mature way on and off the pitch.

These two dozen high school boys at Izichwe embody the values and lessons imparted to them by their coaches, especially Thabo's emphasis on showing self-respect as much as respect for others. When I spoke with the youngsters, they politely thanked me for coming to Pietermaritzburg to meet them and spoke with poise beyond their years.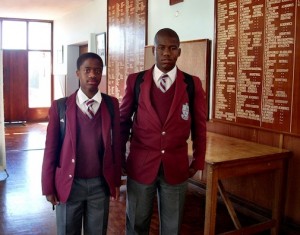 "The program is not only about sports or soccer. It's mostly about life," Asanda tells me. Izichwe is "about respecting the people you are around, and playing fair, which applies in life. You do it the right way. Don't cheat. Don't cheat yourself." Similarly, Simphiwe stated, without hesitation, that Izichwe had taught him "to work hard in life and to respect your instructors." Asanda and Simphiwe's statements were echoed in a team meeting I observed. Technical director Mhlanga Madondo, a police officer, entreated the players to look at their performances in the previous weekend's tournament, stating that he expected them to "take responsibility for their own growth."

Hard work is another crucial component of the Izichwe way. When I asked Lindi what the program had given him, he said, simply: "discipline." Every day, without exception, the boys make their way to the university sports fields to train from 3:30p.m. to 5:30p.m. Many of the boys also play for their school teams at least one day a week (with one boy competing in cross country events in addition to playing school soccer). Saturday is match day in a local amateur league. Sundays are reserved for tournaments. This intense, demanding schedule instills in the boys not only physical endurance and strength, but mental acuity as well. Dladla believes this constant pressure shows the dedication and perseverance of his players. "Boys like Siphesehle (the cross country runner), he's very, very competitive, you know? He did cross country; he came [to training], and I said, "Hey! You rest!" He said, "No, coach! I came to train!"


Although the players' development as athletes is central to the program, Thabo, a former teacher and ex-professional footballer, regularly reminds players that "nothing in this life is as important as knowledge." As a result, the program integrates numerous educational programs into their activities. Every night at the conclusion of practice, around 5:30, a group of the players gathers in a classroom on campus to study under the supervision of volunteer university students.

The coaches closely monitor individuals' academic performance by reviewing school progress reports. This scrutiny, one parent explained, helps to "notice any hiccups in their progress at school." In the opinion of Devon, the life sciences teacher at Alexandra High School, which several Izichwe boys attend, such devoted attention to player's academics is unusual when compared with many other students who lack such careful supervision. "It's a structured lifestyle which, I think, is lacking in a lot of our schools," Devon explained. "I think that's partly why these boys are so successful. They grow and they excel in every area."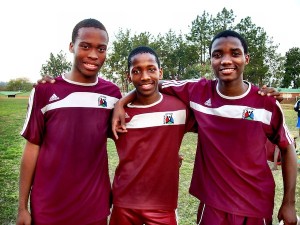 The youngsters openly expressed their gratitude to the adults who put precious time, energy, and resources into the program. "There are many kids out there who want this opportunity and we are very special to get that," Mpumelelo said. Sandile stated unequivocally that the program has "changed the most part of my life." Keelyn agreed, and without hesitation added that thanks to Izichwe, "I found myself." Sandile spoke passionately about his appreciation for Izichwe: "Basically, what this program means to me is that it gives me the opportunity to realize a dream that I never thought . . . it was never something I believed I'd be able to do . . . it just made me realize, if I continue working hard enough, I can be one of the best players in the world."

The Izichwe coaches are also grateful to be part of this project. Coach Madondo said that working with these young men has inspired him; he's seen them "not just growing physically, but also [in] how to approach life." Coach Ronnie "Reese" Chetty, who had a long coaching career including experiences in the United States, told me he is reinvigorated by the hard work and dedication these young men exhibit on a daily basis. The coaches are also driven and guided by the hardships, struggles, and perseverance of some of the players and families.

"It's people like Sipesehle and Mhlengi's mothers who sometimes give me lots of motivation when I see how hard they try, you know?" explained Thabo Dladla. "So then, I say: 'Hey man! I cannot give up. I cannot let them down. So let me try and help them develop real men,' you know?"

And from what I saw these Izichwe boys are becoming real men of immense diligence, humility, discipline, and respect. And, perhaps even more so, this community of boys, men, and parents demonstrates the great potential for grassroots soccer programs to fuel the development of not only athletic talent with a bright future in sport, but also of productive citizens in a democratic society.

—
*Liz Timbs is a PhD student in African history at Michigan State University. Her research interests are in the history of health and healing in South Africa; the professionalization of medicine; masculinity studies; and comparative studies between South Africa and the United States. Follow her on Twitter: @tizlimbs