By Peter Alegi | November 4th, 2010 3 Comments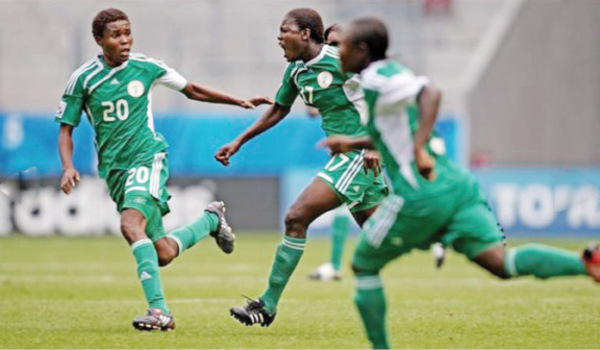 Perpetua Nwkocha was at her stellar best today, scoring two goals as Nigeria defeated South Africa 2-1 at Sinaba Stadium near Johannesburg. The three-time MVP of African Women's Championships leads the tournament in scoring with five goals in two matches.

The contest was played in a relaxed atmosphere, nothing like the Battle of Vosloruus of 2000. The 15,000 capacity crowd — mostly young men — transformed the ground into a sea of yellow and gold. A small, vociferous group of Nigerian fans countered the vuvuzela cacophony with actual trumpets and drumming.

Banyana started tentatively, but hardly seemed a "desperate team," as the Nigerian coach said in a pre-game interview. South African goalkeeper Thoko Mndaweni fumbled an easy shot six minutes in, and then failed to come out on a dangerous cross. The Super Falcons moved well on attack, dominating the middle of the park and exploiting their superior speed on the flanks.

Nigeria were rewarded in the 23rd minute, as Nwkocha smoothly finished a 1-on-1, courtesy of an Oji assist and lax marking. Nigeria continued to pile on the pressure, picking up corners and creating chances from their wing play.

Nwkocha made it 2-0 with a towering header off a corner in the 39th minute. Even the home crowd applauded the goal. Five minutes later, Banyana's central defender Janine Van Wyk struck a thunderous free kick from 30 meters out to bring South Africa back into the game. The wonderful goal revived Banyana and the hopes of the partisan crowd. 2-1 at the halftime break.

I should note that Super Sport's TV coverage was very good overall. Several cameras provided different angles, though not as many as in PSL (men's pro) matches. The commentators were fairly solid. They showed respect for Nigeria, avoided condescending remarks, and relied on patriotic verve only a few times. A good sign for women's football in South Africa and Africa.

As play resumed, South Africa discarded their long-ball approach but strikers Matlou and Popela remained too isolated and, therefore, ineffective.

Nigeria produced the first goalscoring chance of the second half in the 50th minute, before Banyana began to push the visitors back into their defensive half.

But the final twenty minutes saw Nigeria back in control as fatigue slowed Banyana down. The hosts created a last opportunity from a loose ball in the box in the 79th minute, but Nigeria calmly thwarted it. The Super Falcons came close to a third goal in added time and in the end deserved to take all three points from this entertaining and well-played match.