By Peter Alegi | June 12th, 2015 | No Comments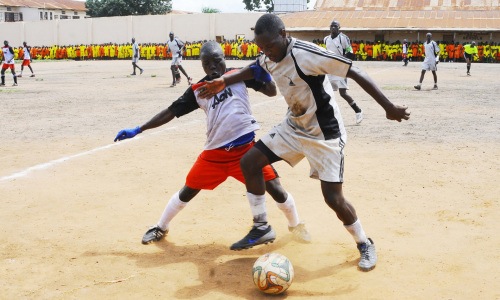 Thieves, rapists and murderers in Uganda's only maximum security prison play for Manchester United, Arsenal, Chelsea, Barcelona, Juventus, and . . . Hanover 96.

In a gripping podcast recorded in Luzira, a suburb of Kampala, David Goldblatt tells the story of the Upper Prison Soccer Association (UPSA), "the most elaborate prison football league in the world" (listen here).

What emerges form this radio documentary-style piece is a deeply humanistic portrait of a prisoner-run sporting organization that does more, much more than stage occasional kickabouts.

UPSA injects fun, entertainment, and healthy recreation in the otherwise stultifying drudgery of life behind bars. Running it requires hard work, sophisticated organization, and tight discipline. It is a complex, sometimes stressful, affair.

But it works. UPSA helps inmates cope with life on the inside as it strives to transform violent criminals into citizens better prepared for what awaits them after their sentences have been served.