By Peter Alegi | August 20th, 2015 | 1 Comment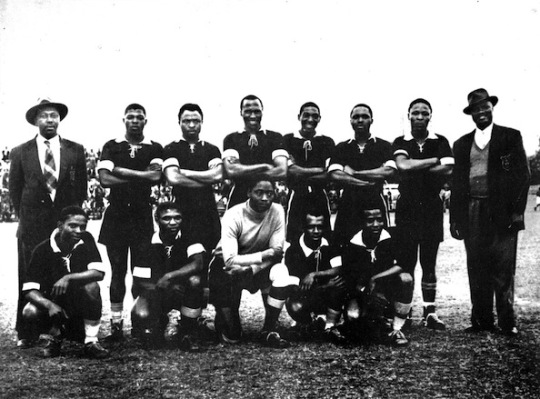 Photo: Durban & District African FA select team, Rhodes Centenary tournament, Salisbury, Rhodesia (1953)

Football is Coming Home is pleased to receive and publish a guest essay by Zipho Dlangalala, a South African fútbologist who has coached players and trained coaches for many years at all levels. He is a teacher by profession. It has been lightly edited for style.


Guest Post by Zipho Dlangalala (makhandaz@hotmail.com)


KWAZULU-NATAL—All sports are played in, and influenced by, past and present social conditions. This is largely, if not entirely, because sport is played by people who are social beings.

When we see most of our South African players playing the same way, looking like identical midfielders, we should know instantly that we are looking at them with "foreign eyes." They will always look like that as long as we evaluate them with foreign tools and criteria.

To African eyes, it is those midfield players that should reveal the nature and inclination of our players. Their creativity and desire to care for the ball—the uninhibited attraction to artistic modes of play—are great assets that we should have treasured so that their game exhibits the same attributes found in them naturally, at least before being diluted.

Regrettably, the Apartheid philosophy and its legacy was too strong for most of us. Based on seeing life through Master-Slave, Boss-Subordinate, Superior-Inferior, Rich-Poor, Educated-Illiterate, Advanced-Primitive, civilized-uncivilized relationships, this "baaskap" paradigm has engulfed us. Even when we know it is not desirable, we often find ourselves promoting it, advocating on its behalf through actions more than words.

It makes us feel acceptable and progressive to be seen as "the master." We do everything and anything to feel accepted and to get approval from those who represent "the master" perspective. It has been engraved in us to look for this approval, otherwise we feel we do not have the capacity to stand by ourselves and achieve success on our own. The desire to be associated with, to be affiliated to, approved by, "the master" is hard to resist for most. It is this prevailing mentality in South Africa that undermined indigenous cultures, languages, restricted people's movement and freedom to associate, to think, to explore, to design, to invent, to discover.

It is a "total control" approach of life. It attempts to control what people think and learn. Given the slightest opportunity, it dictates LIFE to each and every person who is supposed to be subordinated (and limited) to its wishes and desires.

In a cultural and socio-economic environment shaped by a social hierarchy long based on race, fertile ground exists for past tendencies to endure. The more things change, the more they stay the same.

Football under these conditions cannot be sustained, let alone developed.

Looking at football through a particular lens inevitably results in the game looking in a particular manner. Are we using proper African perspectives to look at the game as it is in Africa? Are our views coloured to give us a special feeling? Are we ready to bring something new to world football or are we content to follow established paths and continue to consume what is already in the market? We are entrepreneurs and have skills. We need to develop them and show our own ideas to the world. We need to create something new in our football for the world to sit up and take note.