By Mohlomi Maubane | July 3rd, 2012 | 12 Comments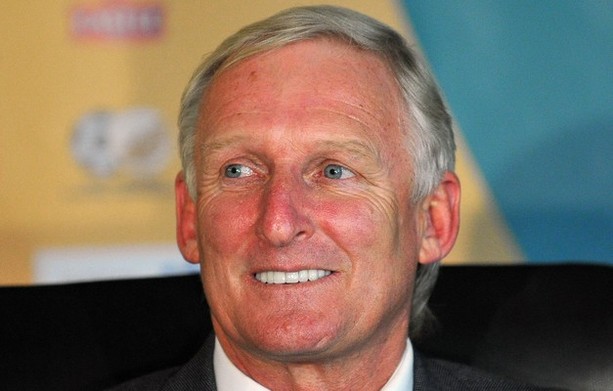 It's official: Gordon Igesund is the new Bafana Bafana coach. The well-travelled Durbanite was the outright favourite for the job, and his appointment is the climax of what has been a remarkable coaching career.

Igesund's first coaching job was in 1985 as a player-coach for Witbank Aces. For the next 11 years, he mainly coached modest teams battling to avoid relegation, sometimes unsuccessfully. In 1992 he won the NSL Second Division title with D'Alberton Callies, but his rise to prominence began in 1996-97 when he guided Durban's Manning Rangers to the inaugural PSL title. More league honors followed at Orlando Pirates (2001-02), Santos (2001-02), and Sundowns (2006-07), which made Igesund the only coach to annex the championship with four different PSL clubs.

His appointment as the national team coach on a two-year contract comes on the back of an impressive stint at the helm of Moroka Swallows. The fabled Soweto team sent Igesund an SOS eighteen months ago when they found themselves at the bottom of the table nearly halfway through the season. Igesund masterminded The Dube Birds' great escape, and this season they had an astonishing year, finishing an agonising second to Orlando Pirates.

It is Igesund's heroics at Moroka Swallows that SAFA expect him to emulate with beleaguered Bafana Bafana, currently ranked 68th in FIFA's world rankings. South Africa's qualification bid for the 2014 World Cup in Brazil is in serious jeopardy after draws against Ethiopia and Botswana. While South Africa's hosting of the next edition of the African Nations Cup guarantees Bafana Bafana's participation, there is well-founded anxiety in the country over the threat of an uninspiring showing in the tournament.

"The bigger picture is the 2013 AFCON and qualifying us for Brazil 2014,"declared SAFA President, Kirsten Nematandani, at Igesund's unveiling. It's the same brief former Bafana coach Pitso Mosimane was given two years ago. As SAFA made abundantly clear to Igesund, should the national team fail to reach the semi-finals of the African Nations Cup next year, then he will join Mosimane on the growing list of former Bafana coaches, which now stands at eighteen.

Igesund's pedigree gives many South Africans hope that, despite recent results, he is indeed the manager who can lead Bafana to the continental crown and to the World Cup in Brazil. He is a wily old fox who has paid his dues in the trenches. He knows how to nurture self-belief and instil a desire to win into any team under his tutelage, regardless of available talent and financial resources. We wish him good luck in his new position.

There is a problem, however, that Igesund cannot solve even if he ends up meeting his new employers' lofty objectives. That is, SAFA's understanding of the "bigger picture" in domestic football is confined to four-year cycles for the men's senior national team (or in this case a two-year cycle). But local football needs sound management, serious youth development for boys and girls, better coaches' training, and infrastructural improvements at the grassroots. In other words, the goals SAFA has set for Igesund are no more than an attempt at a quick-fix solution.

SAFA would have done better to concede their administrative shortcomings, apologize for the dismal state of football in the country, and state that Igesund is the best bet for turning hapless Bafana Bafana into a winning team. Instead, SAFA hired the country's most decorated coach and required him to take one of the least feared teams in Africa to the semi-finals of the continent's premier tournament and then to the World Cup. While there is no question of Igesund's success as a club coach, it would not be surprising if, after the 2013 African Nations Cup, he were to become the 19th Bafana coach in 20 years.