By Peter Alegi | May 3rd, 2013 | 1 Comment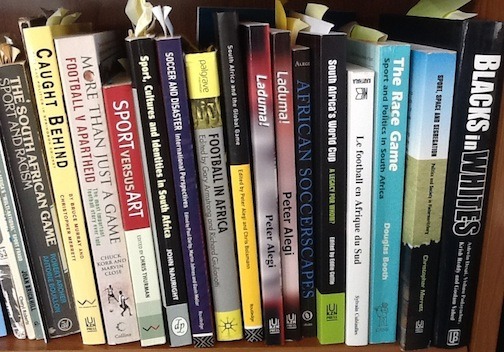 Guest Post by *Marc Fletcher

Gloomy skies and wet weather greeted the Research Forum on South African Football held at the University of Johannesburg (UJ) last month. The bleak conditions made for an intimate crowd, but the academics, journalists and sports practitioners in attendance were rewarded with three strikingly different presentations on varying aspects of the "beautiful game" in South Africa. The aim of the forum was to advance the specialized study of soccer in the country and beyond.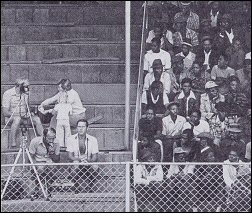 First up was Chris Bolsmann, a South African sociologist based at Aston University, Birmingham. His paper entitled "Professional Football in Apartheid South Africa: Leisure, Consumption and Identity in the National Football League, 1959-1977" provided a rich history of the whites-only National Football League (NFL) during apartheid. The common misconception of South African football is that it has historically been, and continues to be, an exclusively black, working-class game. Yet, Chris's work challenges such a perception and begins to reconstruct a past that is often forgotten or even ignored. Matches in this white league were staged in front of segregated crowds. A successful corporate affair, the NFL attracted a host of world-renowned players, including George Best and Bobby Charlton. In concluding that the NFL became the leisure and sporting entertainment of choice for significant numbers of white and black (particularly Indian and Coloured) South Africans, this history emphasized how football in South Africa has had a more diverse support base than is often acknowledged.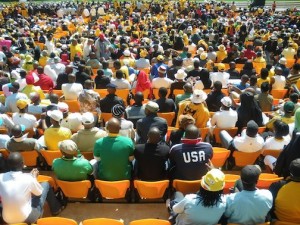 My paper on "Divisions, Difference and Encounters in Johannesburg Soccer Fandom," explored contemporary cultures of fandom beset by race and class divisions, where domestic football is regularly constructed as an Africanized space without white supporters. However, through an ethnography of Kaizer Chiefs, Bidvest Wits, and Manchester United supporters' clubs in Johannesburg, I began to explore the deeper complexities, where supporters on the margins of these groups began to engage with the other. In doing so, some fans challenged these social barriers in football and thus reinterpreted their understanding of soccer fandom and their wider experiences of everyday life in the city.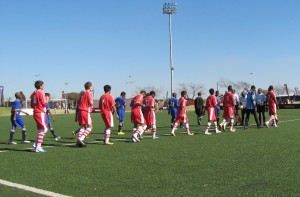 Chris Fortuin, based in the Department of Sport and Movement Studies at UJ, gave the third paper–an eye-opening account of the grim state of youth development in South African football. It was alarming to hear the inadequate ratio of qualified youth coaches to players in South Africa compared to some of the giants of international soccer, especially Spain. The shortage of such coaches, along with the absence of a coherent development plan at the national level, is harming the game at all levels and has contributed to the malaise of the men's national team, Bafana Bafana.

The presentations encouraged members of the audience to think more seriously about football as an academic field of inquiry. During the second half of the forum panelists responded to numerous questions from the floor. One question stuck out, one that is often asked; why are black South Africans not writing about this subject? It is true that much of what is written on the subject is by foreigners like me. But a main goal of football scholars, regardless of origin, is to empower South African students in the humanities and social sciences (and other fields) with tools and desire to critically engage with football studies.

With questions on the presentations filling up the second half, the question of where does the academic study of South African football go from here was left unresolved. Events such as the UJ forum can play a vital role in motivating South African scholars to research and write about their game. Clearly, football is a legitimate and fascinating area of research. But many more events like the forum are needed to further develop the field and chart future directions.

To this end, readers of this blog who are in the Johannesburg area, are welcome to attend the UJ Wednesday Seminar Series on Wednesday, May 8, at 3:30pm, where I will be presenting a paper entitled "Reinforcing Divisions and Blurring Boundaries: Race, Identity and the Contradictions of Johannesburg Soccer Fandom." For details about the event click here.

The journey continues.

*Marc Fletcher, a postdoctoral fellow at the University of Johannesburg, blogs at One Man and His Football: Tales of the Global Game. Follow him on Twitter: @MarcFletcher1
Tags: Bidvest Wits, Chris Bolsmann, Chris Fortuin, development, History, Johannesburg, Kaizer Chiefs, Manchester United, Marc Fletcher, NFL, sociology, South Africa, youth
Filed under: Hosting