By Peter Alegi | December 17th, 2012 | 2 Comments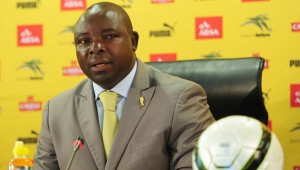 These are interesting times for politics and football in South Africa. The African National Congress is meeting this week in Bloemfontein/Mangaung to select the ruling party's new leaders while 94-year-old Nelson Mandela is still hospitalized recovering from surgery and a lung infection. Domestic football has been rocked by a FIFA match fixing report alleging that a transnational match-fixing syndicate based in Singapore, assisted by South African Football Association (SAFA) officials, fixed Bafana Bafana's friendlies against Thailand, Bulgaria, Colombia and Guatemala in the build up to the 2010 World Cup. Five SAFA men, including its president, Kirsten Nematandani (in photo above), have been suspended pending "further examination" of possible "criminal intent in collusion" with a front organization set up by the convicted match fixer Wilson Raj Perumal.

Consumed by the details of this latest sporting malfeasance as well as the tensions in ANC politics at a particularly difficult moment for South Africa, I was stunned to belatedly learn of the death of Sedick Isaacs at the age of 72. I had the extraordinary privilege to meet him in 2010 while a Fulbright Scholar at the University of KwaZulu-Natal (UKZN). I was humbled and honored to share the stage with Isaacs in a symposium on football history held on the UKZN Westville campus and sponsored by the German cultural exchange program, DAAD.

Isaacs spoke matter-of-factly about the cruelty and hardships endured during his 13 years on Robben Island. What had earned him a place in apartheid's most notorious prison had been his role as saboteur in the armed struggle. Standing before us wearing a blue sweater in the humidity of sub-tropical Durban, Isaacs pointed out that his years on Robben Island had left him always feeling cold regardless of the temperature. A point he reiterated in Cape Town two weeks later when he spoke at my book launch for African Soccerscapes. (That's us in the photo below.)

By studying and playing on Robben Island, Isaacs told us, prisoners formed and maintained communities of survival and resistance. He earned a university degree while behind bars and also helped to build and administer the prisoners' Makana Football Association. (The story is admirably told by Chuck Korr and Marvin Close in More Than Just a Game: Football v Apartheid.) When the prisoners finally secured the warden's approval for their league after three years of struggle, Isaacs ended up handling much of the day-to-day operations of the Makana FA.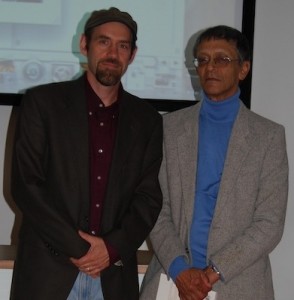 Dr. Isaacs explained that the weekly cycle of matches proved crucial in fighting "eventless time" — a debilitating condition for prisoners serving lengthy sentences. The cycle worked something like this: teams started the week by analyzing the previous match and then by midweek there was growing anticipation for upcoming matches. Conversations, banter, and meetings stoked the hype and created heroes and personalities. By the weekend, excitement surrounding the matches reached fever pitch. Football's importance, Isaacs said, was enhanced by its force as a provider of human emotions in an emotionally neutral context.

Isaacs pointed out that the only positive effects of long prison sentences is that they can strengthen prisoners' organizational skills and improve their understanding of human nature. The activities of the Makana FA reinforced this outcome. Intriguingly, both candidates for the ANC presidency in 2012, South African President Jacob Zuma and his challenger Kgalema Motlanthe, played football on Robben Island. "If it had not been for the beautiful game and these community building devices," Isaacs concluded, "we could have become psychological and physical wrecks incapable of integration into a multicultural world, let alone be able to contribute positively to it." May you rest in peace Sedick Isaacs. An exemplary South African who can teach folks in Mangaung and at SAFA a few lessons about doing the right thing in politics and football.