By Editor | December 9th, 2012 | 7 Comments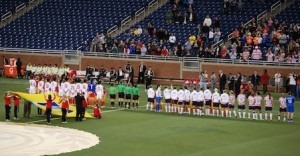 Guest Post by Sophie Alegi
11-year-old soccer player and writer in Michigan. This is her first match report.

December 8, 2012

Detroit –17,371 people came to Ford Field to watch USA vs. China: an attendance record for a women's soccer game in Michigan.

The US was not used to the artificial surface. Players struggled to control the ball. The surface was clearly not appropriate for soccer because when they passed the ball, it bounced up and down slightly, as if the carpet was ruffled.

China's defense was shaky in the first five minutes, letting at least six shots be hammered at their goalkeeper, Zhang Yue. The best chance was for Amy Rodriguez who was playing in her 100th international match. China let the US pin them down in their own half. But the Chinese pulled together, playing tight defense.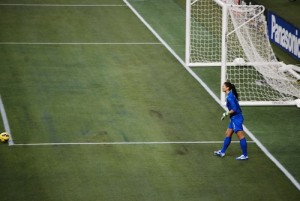 All of the players were extremely close together; making it very difficult for the US to connect their usual passes. The US started to look a little wobbly in the back, with Shannon Boxx giving up ball after ball in the defensive third. Hope Solo managed to keep out a powerful shot by the Chinese number ten with a spectacular aerial save.

In the midfield, the US gave up at least ten balls, giving China easy opportunities to go forward. But the US defense held up, and only a few shots were directed at Solo.

Unfortunately, the two times the ball went down the wing Megan Rapinoe failed to get the ball to Abby Wambach's head. China started to get physical about eighteen minutes into the half. Every time an American player turned, she would get brutally fouled. It hurts to fall on that carpet surface!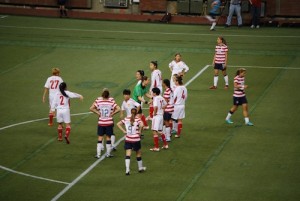 Twenty minutes in, a Chinese player got a yellow card. On the resulting play, Wambach received a cross. The ball glanced off her head and out. She probably wanted that one back. The young Chinese team did well to close up the gaps, but the US team was playing at the speed of molasses.

Thirty minutes in the US began to play in the Chinese penalty box. They would pass around on the outskirts, trying to find an opening. The referee was not very good. She botched a corner kick call and awarded a goal kick instead. A corner was awarded to the US thirty-one minutes in. Wambach got clattered on the back post by a giant Chinese defender.