By Editor | November 23rd, 2013 | No Comments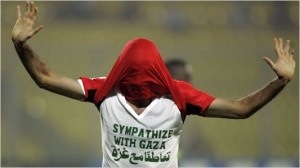 The Football Scholars Forum, an international online think tank, convened on November 14 to discuss Football in the Middle East. The conversation focused on a special issue of the academic journal Soccer and Society, edited by Alon Raab and Issam Khalidi. The group began by noting that while football has been a critical force in broader political and cultural developments in the region, there is little institutional support for studying the game in the Middle East.

The ensuing 90-minute discussion demonstrated the value of scholarly collaboration and research on the game.  The group explored a dizzying number of topics and territories, including football as a source of unity and hope and as a site of political and ideological conflict; the 2022 World Cup in Qatar; soccerpolitics in Turkey; sport and Islamism; Palestinian and Iraqi Kurdish women's teams; and football films and poetry.

For a Storify Twitter timeline click here.

Download the mp3 of the session here.
Tags: 2022 World Cup, Alon Raab, Egypt, Football Scholars Forum, gender, Iran, Islamism, Israel, James Dorsey, nationalism, Palestine, Qatar, Turkey, ultras, women