By Editor | March 27th, 2015 | 6 Comments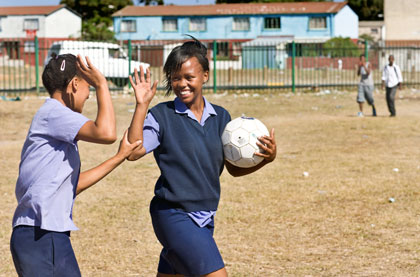 This is the third post in Pelle Kvalsund's series rethinking Sport Development and Sport For Development. (Click here and here to read the previous posts.)
By Pelle Kvalsund
If you have visited sub-Saharan Africa then you know that Non-Governmental Organizations (NGOs) are everywhere, even in sports.
In 1999, I traveled from Norway to South Africa to work for Sports Coaches' Outreach (SCORE). This NGO aims to create sporting opportunities for children and youth in disadvantaged urban and rural communities. The agenda was clear and the focus simple: Sport for all!
Since the pioneering days of the 1990s, thousands of new local and international sport for development organizations (S4D) began operating all around the world (partial list here). Most of these organizations feed on a broken local sport system to create, often successfully, high demand for their services. Sometimes their agendas are not clear or straight forward.
Sport NGOs are manna from heaven for Western governments and donors eager to boast about their efforts in developing civil society and reaching grassroots targets in the Global South. By offering sporting activities for boys and girls, S4D NGOs appear to have successfully "taken over" parts of the mandate for youth development usually given to local (including national) sport associations.
Backed by solid support from northern sponsors (public and private), many S4D groups have developed a strong internal organizational capacity that enables them to raise funds, submit grant proposals, market themselves, and run and evaluate activities according to the foreign aid industry's terms and latest trends. These NGOs succeed by investing in their capacity and development. In the process, they create self-sustainable structures that go beyond their original function as "gap fillers" for outstretched African sport providers.
This process has fostered adversarial, even hostile, relationships between the NGOs and government-mandated sport bodies. Such rivalries stem from perceptions that the success of S4D NGOs stems at least in part from the sports governing bodies' mismanagement and mistakes. In some cases, this animosity targets northern brokers who are seen to be undermining the local sport custodians' mandates. The rivalry is rooted in struggles for material benefits, such as access to a new Land Cruiser, as much as by the fact that many NGOs and football academies are producing young footballers for sale in European and Asian markets.
Some governments and sport governing bodies have been developing strong policies and clear strategies that chart a coherent, productive direction for sport development in their countries. Chasing aid money, the NGOs often fail to align themselves with host countries' strategic plans and begin operating in a parallel universe. This parallel universe does not only function in isolation; at times, it also produces some peculiar activities. As S4D's agendas change because of funding levels and requirements, the sport activities they deliver also change.
Over the years, I have observed how using sport to address serious issues like AIDS, farming, sanitation, traffic safety (as well as some religious agendas) has backfired. NGOs forget (or choose to ignore) that the kids come first and foremost to play sports. They do not enjoy standing quietly in line passively listening to lengthy explanations about how to wash hands properly or safely cross the street.
Some of the S4D activities are so far removed from sport that they confuse both the boys and girls and sport development practitioners like myself. Such a wrong-headed approach has led to many youths choosing to pursue other activities and dropping out of sport all together.
What would the African and Asian sport associations (discussed in my previous post here) look like and how would they function today if northern brokers, supported by Western governments and companies, had invested the same amount of human and material capital in capacity-building and long-term development? The Norwegian Olympic and Paralympic Committee and Confederation of Sport, an umbrella organization for all national sports federations in Norway, has adopted this strategy. It will be interesting to follow its development over time.