By Editor | December 22nd, 2012 | 1 Comment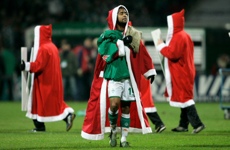 Guest Post by Tom McCabe

I've been invited to not one, but three Boxing Day parties this year, which got me thinking that the day after Christmas should become a soccer holiday in the United States. Like other manufactured holidays such as Grandparent's Day, Secretary's Day, and Boss's Day, Boxing Day can become American soccer's Hallmark Holiday.

This country has no real tradition for December 26th, unlike England and some other Commonwealth countries, so two Englishmen and one American I know have co-opted the day and made it an "unofficial" soccer holiday.


My friend Jimmie's son was born seven years ago on Boxing Day, and ever since he has an open house for his soccer-loving friends and family. He wants his son's birthday to always be filled with soccer. His house is just seven exits away on the Garden State Parkway (yes, the "Which exit?" New Jersey joke lives on) so my son and I watch a Premier League match as we eat an early morning English breakfast.

Phil, an Englishman, just started his Boxing Day party, but we'll have to pass on it as one in our hometown gets top billing. Steve, a Scouser who supports Liverpool, has hosted a match and after-party for a number of years now.

The event starts as an eleven-a-side "international" between England and the U.S.A., but disintegrates into a twenty-a-side melee when the kids join in. It ends with a party at the local Elks Lodge. Last year, the Stars and Stripes posted a convincing 4-1 victory over Mother England on a clear, cold day. One player dressed as a Victorian-era Englishman with a retro Three Lions jersey, long white shorts, and a faux mustache. After the match we warm ourselves with meat pies and beer.

It's a festive day of food and football that others should partake in. Soccer clubs could use it as a get-together after the fall season. Professional clubs might use the opportunity to stage an exhibition match, advertise the coming season (Major League Soccer just announced its home openers for 2013 this past week), or just host fans for a holiday party.

Whatever the motivation, December 26 could become a day that gets you off the couch and back onto the field. With soccer as its focus, it would be better than any of those other Hallmark Holidays.