By Peter Alegi | November 9th, 2012 | 3 Comments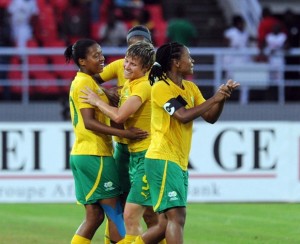 South Africa's women's national team recorded its most important victory ever on November 7 by defeating Nigeria 1-0 in the semifinal of the 8th African Women's Football Championship in Bata, Equatorial Guinea. Defender Janine Van Wyk long-range blast gave Banyana Banyana (The Girls) their first-ever win against the six-time champion Super Falcons. South Africa will face Equatorial Guinea in the final on Sunday, November 11, a team that beat them 1-0 in the first group stage match.

"I have been in the Banyana Banyana side since 2004 and we have tried for so long to beat the Nigerians but luck has never been on our side, but now we have proved that we can compete and beat of the best on the continent," said Van Wyk. "At the CAF African Championship held in South Africa in 2010 I scored with a free kick from 35 metres out against Nigeria, and my teammates always remind me that I normally reserve my best for matches against Nigeria," she laughed.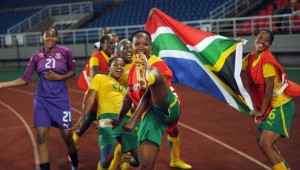 With the men's team — Bafana Bafana — struggling, it is perhaps not surprising that South African fans and the football establishment are leaping onto the Banyana bandwagon. Following the win against Nigeria, SAFA President Kirsten Nematandani announced he would be flying out to attend the final. "The victory should open doors for the growth of women's soccer," he said. "Well done to the girls for making the country proud."

"We are in a very positive frame of mind going into the final game against the hosts," said Joseph Mkhonza, the Banyana head coach. "But we are still focused on attaining our mission of taking gold in this tournament. We came here with a mission and that mission is still on track," he said. "We have some homework to do before Sunday's final, knowing we will play in front of a large red-clad crowd in what is certain to be a packed Malabo stadium, but we will be ready for the challenge."