By Peter Alegi | February 11th, 2013 | No Comments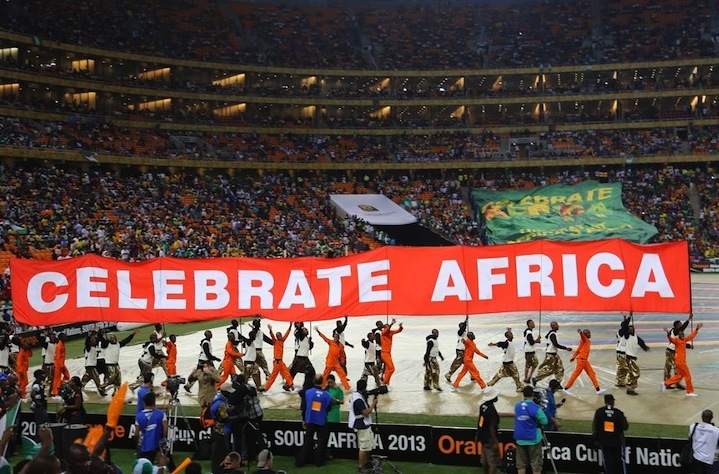 Photos courtesy of Chris Bolsmann

By Chris Bolsmann (@ChrisBolsmann) and Marc Fletcher (@MarcFletcher1)

February 11, 2013 (23rd anniversary of Mandela's release from prison.)

JOHANNESBURG, SOUTH AFRICA

Chris Bolsmann (CB): In February 1996, I celebrated with 100,000 other delirious South Africans packed into Soccer City after we beat Tunisia in the African Nations Cup final. It was a special victory and an important moment in South African sports history. It was more special that the 1995 rugby World Cup win because the soccer crown was won by a genuinely racially integrated team playing the game obsessively followed by most South Africans. 1996 has remained a very powerful memory for me over the last 17 years. However, there has always been one lingering doubt in the back of my mind: Nigeria, the reigning African champions at the time, did not participate.

The Nigerian junta's sham trial and execution in November 1995 of author and environmental activist Ken Saro-Wiwa drew a sharp rebuke from then-South African President Nelson Mandela. Relations between the two countries quickly deteriorated and led to the reigning champions' withdrawal from the 1996 tournament in South Africa. These events intensified the heated rivalry between South Africa and Nigeria. For Sunday's final I had planned to support Burkina Faso. The Burkinabé had reached their first-ever Nations Cup final by playing exciting and entertaining football; they were also the under-dogs.

Marc Fletcher (MF): I arrived at Soccer City's National Stadium almost four hours before Sunday's kickoff and was pleased to see that the Nations Cup party atmosphere had finally hit Johannesburg. Considering the large Nigerian population in the city, it was unsurprising that the vast majority of the fans streaming in were Super Eagles supporters. More surprising was the significant number of South Africans choosing to support Nigeria. After all, "Nigerians" here are perceived as illegal immigrants and dangerous criminals. Tensions between African immigrant communities and South Africans have sometimes spilled over into xenophobic attacks, as in the deadly riots of 2008. But the Nations Cup final appeared to turn this association upside down; being Nigerian, or identifying with Nigeria, had become a positive thing, if only temporarily.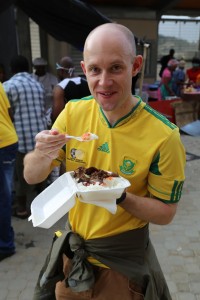 Walking towards the spectacular stadium, it was also apparent how this experience differed from the World Cup I attended almost three years before. Back then, football fans had been promised an "African" World Cup (whatever that entailed). South Africans and tourists alike had been repeatedly told that "It's Africa's Turn" and that South Africa would show the world the positives Africa had to offer. Instead, a bland, commercialised FIFA-controlled environment reduced the local flavour of the tournament to the controversy surrounding vuvuzelas. As one of my local research informants summarised, "this could be anywhere!"

But 2013 was different. Cheaper tickets must have been a factor, allowing those who could not attend World Cup matches to engage, to experience and to celebrate. The bland hot dogs of the World Cup had been replaced with the pap and steak and boerwors rolls, staple foods at domestic matches. The relentless drumming from the small group of Burkinabé in the seats near me infused the tournament with the beat that had been lacking nearly three years ago. People of different racial, ethnic, class, and gender backgrounds socialised with one another–a dream for Rainbow Nation proponents–while the vast panoply of different African football shirts and flags reinforced a wider belonging to "Africa." Security checks on spectators were inconsistent at best. A feeble, half-hearted pat down from a steward would do little to detect things such as flares, which constantly happens at local games (my favourite is still seeing someone pull out a full bottle of whiskey from his sock!). The pitch resembled a beach with players kicking up clouds of sand constantly. When Nigeria went ahead through Sunday Mba's brilliant goal three-quarters of the stadium erupted in celebration. A far cry from the World Cup.



CB: Our tickets for the final were purchased months in advance, but as we tried to get to our seats it was clear that Nigerian fans occupied this part of the stadium. After stern words and persistence, we finally sat in our seats. It took stadium security and the South African police a good thirty minutes of the first half to move Nigerian fans seated on the stairs next to us to proper seats. I chatted to Sunday, a Nigerian national who told me he currently lives in Germiston on the East Rand (part of greater Johannesburg). Directly behind us was a group of eight or so trumpeters and a couple of drummers who played throughout the match. It was hard not to sway and dance to the fantastic music. By the time Nigeria took the lead my fickle allegiance was swaying towards the Super Eagles. When the final whistle blew I was happy Nigeria had won their third African title and had done so on South African soil. I look forward to Nigeria representing Africa at the Confederations Cup in Brazil later this year. But even more exciting is the prospect of South Africa regaining the lofty heights of 1996 and a show down with Nigeria. Despite Bafana's quarterfinal exit, I carry on believing.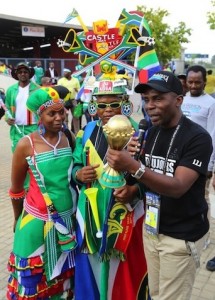 MF: I've fallen into the trap of comparing a westernised, modern, slick, commercialised World Cup with the chaotic yet dynamic African tournament. I'm not sure how to extricate myself from this other than to continue digging my hole with my romanticism of the final. It was a vibrant celebration of African football. Yet, as I drove to work this morning, the newspaper headlines attached to most Jo'burg streetlights were not about the final but Manchester United extending their lead at the top of the English Premier League. Is the 2013 Africa Cup of Nations already being forgotten?