By Editor | June 21st, 2012 1 Comment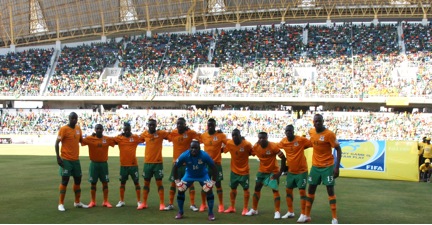 Guest Post by *Hikabwa Chipande

NDOLA — Zambia's victory in the 2012 African Nations Cup has spawned a new fashion on the Copperbelt — the country's industrial and football heartland — where people now wear Chipolopolo (Copper-bullets) replica jerseys as well as chitenge (women's waist wraps) in the national colors. Selling Chipolopolo regalia has also become big business in street markets and makeshift stores. Clearly, the African champions have re-energized the mood of the nation and revitalized support for football among ordinary citizens, politicians, and business people.

The stability of copper prices, increases in copper production, an improving economy, and the pride of being African football champions, have led ZCCM Investments Holdings, formerly Zambian Consolidated Copper Mines, to reconsider supporting the sport. For instance, private companies such as Mopani Copper Mines and Copperbelt Energy have resumed their funding of Kitwe's famous Nkana Red Devils and Power Dynamos.

"Winning the African Cup changed things," says Red Devils head coach Linos Makwaza. "People have started coming back to football. At Nkana [Football Club] Mopani [Copper Mines] is now involved and has taken over which is good," Makwaza says. The relationship between mining companies and football is not a new one. It has shaped the history of the game in Zambia. As far back as the 1920s, when copper mining started on the Copperbelt under British colonial rule, and into the independence era up to the privatization of the ZCCM mining company in 1991, government-controlled mining companies provided football grounds, financial resources, coaches, players, and stimulated a deeply rooted fan culture.

Zambia's Nations Cup success has inspired politicians such as Sports Minister Chishimba Kambwili to encourage new owners of copper mining companies to sponsor Mighty Mufulira Wanderers, Nchanga Rangers, Nkonkola Blades, Roan United, Kalulushi Modern Stars and other important, but struggling, clubs in the mining province. Abraham Nkole, currently Mighty Mufulira Wanderers manager and a former player in the 1960s and 1970s, sees this shift as an opportunity to resuscitate the "lost glories" of Copperbelt football.

The opening of a modern stadium in the mining town of Ndola has also injected new life in Copperbelt football. I was in attendance on June 9, 2012, for the inauguration of the Chinese-built 40,000 capacity Levy Mwanawasa Stadium, which hosted a Zambia vs. Ghana 2014 World Cup group D qualifying match (see photo). Thousands of fans clad in green and orange Chipolopolo replica jerseys besieged Ndola. With Vice President Dr. Guy Scott in the stands, Chipolopolo beat the Black Stars 1-0 in the packed stadium, thus renewing their hopes for qualifying to Brazil 2014 after being thumped by Sudan 2-0 in Khartoum a week earlier.

Practitioners and fans I spoke to on the Copperbelt are encouraged by recent developments and hope the mining province will soon reclaim its dominant position in Zambian football after two decades of decline. The political and financial investment that is fueling the game's resuscitation owes much to Chipolopolo's international success. The question is whether such support will continue should the national team perform badly at next year's African Nations Cup in South Africa.

*Hikabwa Chipande is a PhD candidate in African history at Michigan State University. His dissertation research is on the social and cultural history of football in 20th-century Zambia. He can be contacted at chipande [at] msu [dot] edu.