By Peter Alegi | April 22nd, 2010 8 Comments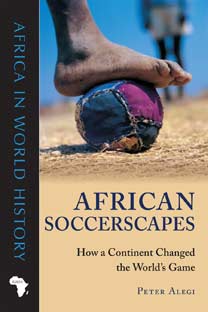 Released ahead of the 2010 World Cup in South Africa, my new book African Soccerscapes tells the little-known story of football in Africa. Published by Ohio University Press in North America and Hurst & Co. in Europe and Africa, the book is both a history and an examination of the connections between sport and society. Using case studies from around the continent, I show how Africans appropriated soccer from Europeans and turned it into a distinctively African activity during the twentieth century.

African players, fans, and officials challenged colonial power and expressed a commitment to racial equality and self-determination.  In postcolonial times, new nations staged matches in national stadiums as part of their independence cele­brations and joined FIFA. The Confédération Africaine de Football democratized the global game through antiapartheid sanctions and increased the number of African teams in the World Cup finals.

African Soccerscapes analyzes the causes and effects of the departure of huge numbers of African players to overseas clubs and the dominance of commercial interests in local leagues. Finally, a consideration of the growth of women's soccer and South Africa's hosting of the 2010 World Cup challenges the one-dimensional notion of Africa as a backward, "tribal" continent populated by victims of war, corruption, famine, and disease.

Look for stories from African Soccerscapes on this blog, as well as news and updates about book events, talks, media coverage and more.