By Peter Alegi | November 10th, 2010 4 Comments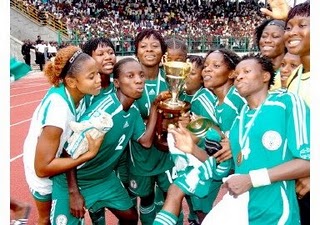 Three victories by a combined score of 10-1 so far in the 2010 African Women's Championship make Nigeria's Super Falcons heavy favorites to claim the continental crown.

Led by superstar striker Perpetua Nkwocha's seven goals, the Super Falcons face Cameroon in tomorrow's first semifinal. (This match kicks off at 10am. Brunch at Sinaba stadium anyone?). These two West African rivals — in men's and women's football — have met in each of the last three AWC tournaments, with Cameroon losing three times (once on penalties) and drawing once. In the 2004 final in South Africa, Cameroon were humiliated by Nigeria 5-0, with Nkwocha scoring four goals. Not a good omen for The Indomitable Lionesses.

South Africa and Equatorial Guinea meet in the second semifinal (3:30pm start, thankfully). This is a rematch of the 2008 title game won by the small oil-rich nation by a score of 2-1. Neither team has played their best football yet so this is likely going to be a riveting contest. Local media have been giving Banyana Banyana unprecedented coverage. The sportive nationalism of the crowds at Sinaba stadium has boosted the confidence, if not the performance, of the South Africans and may well prove decisive against the defending champions.

Prediction: South Africa and Nigeria meet in the final on Sunday.