By Peter Alegi | November 12th, 2012 No Comments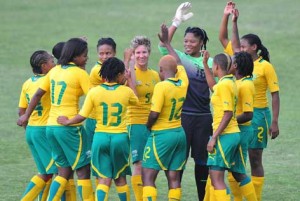 Boosted by a home crowd of 20,000 fans, including President Teodoro Obiang Mbasogo, Equatorial Guinea crushed South Africa 4-0 in the final of the 8th African Women's Championship in Malabo on Sunday.

Banyana Banyana — as the team is affectionately known — held out until the 43rd minute when the home team took the lead through Chinasa's header from a corner kick. The goal seemed to take the wind out of Banyana's sails. After the break the qualitative difference between the two sides became evident. Midway through the second half Banyana lost their concentration, giving up three goals in six minutes to the Nzalang Nacional (Nation's light): Costa (66′), Anonman (70′) and Tiga (72′).

"Falling at the final hurdle is a major disappointment to all involved with Banyana Banyana," said head coach Joseph Mkhonza at the post-match press conference. In a year that saw South Africa's women's team reach two major milestones, competing in the Olympics for the first time and finally beating powerhouse Nigeria, Mkhonza looked ahead and said that "Banyana Banyana should be able to qualify for international tournaments, such as the World Cup and the Olympics, in the future."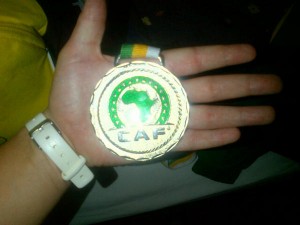 It is always tough to play a final against the host nation, but the big game in hostile territory did appear to get the best of the South Africans. The night before the match, for example, Banyana captain Amanda Dlamini (@Amanda_Dlamini9) shared her state of mind on Twitter. "I don't know how I'm going to sleep tonight. If I'm going to sleep at all," she wrote. Then a few hours before the match, defender Janine Van Wyk (@Janinevanwyk5), whose marvelous goal beat Nigeria in Wednesday's semifinal, tweeted: "Very IMPORTANT game today. I'm so nervous its [sic] insane but I know we will do well." Perhaps adding to the pressure of the moment, the office of the Presidency (@PresidencyZA) followed by tweeting its support: "President Zuma wishes Banyana well."

That Banyana could not field three overseas players partly explains Sunday's result. Midfielder Kylie Ann Louw and reserve goalkeeper Roxanne Barker stayed in the United States due to study commitments, while midfielder Nompumelelo Nyandeni remained with her club in Russia. "Losing a player of Nyandeni's talent and experience will always be a setback to any team," said Mkhonza. Another factor to consider has to do with oil-rich Equatorial Guinea's "willingness to hand out passports to players who agree to play for them without any period of residency," as Ian Malcolm of goal.com put it. "Almost the entire squad selected for the African Women's Championship were born outside Equatorial Guinea, most in Brazil, but also in other African states." While not illegal according to FIFA rules, the ethics of this all-star team formation are questionable.

The buzz about Banyana from South Africans on social media was overwhelmingly positive. "You did South Africa proud, the whole team deserves a heroes welcome. You passed all expectation and showed your greatness," @RhandzuOptimus wrote in a tweet that captured the general tenor of South Africans' reactions. The government chimed in too. Sports Minister Fikile Mbalula said that "Although they did not win the (African) Championships, Banyana Banyana have proven that they are an ever improving team that has shown progress over the last year."

Now that the tournament is over what will happen to the "Banyana Bandwagon"? Practitioners and fans know that women's football in South Africa needs much more investment and support. Even at the elite level there is no season-long national league. And as Thabo Dladla, founding director of Izichwe Youth Football in Pietermaritzburg, explains in a comment to my previous Banyana post: "There are no competitions for girls junior teams. Our girls only start playing football at the university level. These issues have nothing to do with money. SAFA should play the role in terms of promoting the game." The road ahead is long and tortuous. We'll be following developments closely.

Suggested Reading

Prishani Naidoo and Zanele Muholi, "Women's bodies and the world of football in South Africa," in Ashwin Desai, ed., Race to Transform: Sport in Post-Apartheid South Africa (HSRC Press, 2010).

Cynthia Fabrizio Pelak, "Women and gender in South African soccer: a brief history," Soccer and Society 11, 1/2 (2010); 63-78.

Martha Saavedra, "Football Feminine—Development of the African Game: Senegal, Nigeria, and South Africa," Soccer and Society 4, 2/3 (2003): 225-253.