By Peter Alegi | April 9th, 2014 1 Comment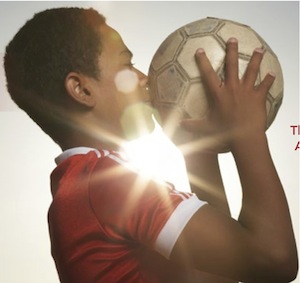 There may not be any white smoke coming out of the soccer conclave this week at Hofstra University in New York, but little else will be missing from an unprecedented fútbological event featuring presentations by more than 100 scholars, journalists, authors, coaches, and the King of Soccer himself: Pelé.

Historians Brenda Elsey and Stanislao Pugliese are the presiding cardinals of Soccer as the Beautiful Game: Football's Artistry, Identity and Politics , an international conference hosted by the Hofstra Cultural Center and the Hofstra Department of History. The gathering begins on Thursday, April 10, with concurrent panels, an opening ceremony, and two keynote addresses by David Goldblatt ("Brazil: The Curious Rise of the Futebol Nation") and Jennifer Doyle ("Imagining a World Without a World Cup: An Abolitionist Perspective).

Friday's menu serves up a plethora of panels on a dizzying range of topics and a ceremony honoring Pelé with the conferral of an honorary degree. Saturday's focus is on journalists, coaches, philanthropy round-tables, followed by a concluding plenary session, and . . . a pickup game on the New York Cosmos home ground! (Note to self: remember to pack turf shoes.)

I'll be presenting a paper comparing World Cup 2010 in South Africa to World Cup 2014 in Brazil (click here to listen to an earlier version of this talk) and also participating in the Football Scholars Forum on academic vs. journalistic writing about soccer (click here to watch my pre-conference video blog and here to read the other five posts by my fabulous co-panelists).


As I said in a recent SoccerNomad podcast, I'll be like a kid in a candy store! So here are the panels, which I grouped under some common themes:
Arts and Culture
Picturing The Game: Soccer in Art
Football and Visual Culture in Historical Perspective
Literature and Representation
Fan Cultures
Heroes and Anti-Heroes
Philosophy of Football
Politics and Power: Global, National, and Local
Propaganda and Authoritarianism
Politics of the Mega Event
Civic Associations, Class and Politics
Professionalism and Fanaticism in the Development of Modern Football
Populism, Politics and Football Clubs
Exceptionalism vs. Globalization
Political Mobilization: Reform and Revolution
Researching Institutional Change and Governance
Social Dynamics and Identities

Ethnic Identity, Racial Hierarchies, and Nationalism
National Identity/Normative Identity
Transnational Currents/National Manifestations
Gender, Poverty and the Public Good
Gender and Sexuality
Soccer and Solidarity
Empowerment, Social Integration And Soccer
Soccer in the U.S.A.
The Past and Future of Soccer in the United States
New York Cosmos
Immigration, Exile and Diaspora
Football, Pedagogy and Integration
Research Trends In Health, Regulation and The "Mental" of Soccer
and more!
Business of Football
Media and Football
Journalists, Editors and Publishers Round-Table
Coaches, Practitioners and Trainers Round-Table
Click here to visit the Hofstra Soccer Conference website. Follow me on Twitter (@futbolprof) for live tweets during the conclave and look for a conference round-up next week!