By Peter Alegi | November 2nd, 2012 1 Comment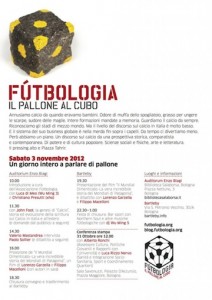 I caught the football virus early on in life. Growing up in Rome, some of my earliest memories of pure freedom and unadulterated joy had to do with playing football with my brothers, friends, and school mates in courtyards, playgrounds, streets and on the dirt and gravel pitches of Villa Ada and Villa Borghese. Eventually, I made it into the CONI Acqua Acetosa football academy, which in the 1970s was a bountiful feeder program for youth development programs across the city, including Roma and Lazio.

This was around the time of the Iranian Revolution and the U.S. Embassy hostage crisis (go see Argo if you haven't yet). When our creative writing teacher demanded an essay on a global topic, I cheekily produced a (handwritten) lengthy fiction piece about an Iran vs. U.S. "peace match" in Tehran. I coreographed it tightly. President Carter and Ayatollah Khomeini sat next to each other in the VIP seats (!) and at the end of the match the unifying power of sport resolved the diplomatic crisis. Nothing like a young boy's idealism and imagination!

These childhood memories were suddenly stirred up when I learned about "Fútbologia 2012" — a day-long gathering to be held in Bologna on Saturday, November 3. John Foot, lecturer in Italian history at the University of London and author of Calcio: A History of Italian Football will give a keynote address (follow him on Twitter @footymac) based on his book and the evolution of football writing in Italy and abroad.

I liked the emotional, unpretentious prose of the event's official description, as well as its philosophical thrust. "We sniff football from when we are kids. The smell of mold in the dressing room, shoe polish, sweaty uniforms," write the Fútbologia organizers. "Entire lineups memorized. We watch football since forever. We recognize stadiums from around the world. And yet the level of discourse on football in Italy is very modest. And its global business system is in deep shit. We've been having less fun for quite some time. But now we have a plan. A conversation about football from a historical perspective, comparative and contemporary. About power and popular culture. Social sciences and physical sciences, art and literature. High pressing and Tahrir Square."

Now that's what I call a Saturday well spent. Buon divertimento!

For more information visit the futbologia.org blog.