By Peter Alegi | October 11th, 2012 5 Comments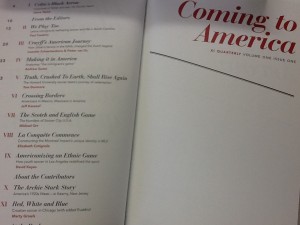 "Neither magazine nor book, but somewhere in between," is how journalist and author Jonathan Wilson describes the genre of long-form football writing currently gaining popularity in the United States and Britain. I call this genre the bookzine, a hybrid form that lies at the intersection of academia and popular journalism.

In an insightful article at Forbes.com, Zach Slaton notes how in September 2012 "three English-language print publications – XI Quarterly, The Blizzard, and Howler – either debuted or had their latest issue released all within a month of each other." Each of the three magazines has a distinct style, edge, form, and funding model. Published in both print and digital editions, XI Quarterly and The Blizzard are more narrative and non-commercial than Howler, which emphasizes visual graphics and has a deal with Nike. "We're embarking on a golden age for such writing," Slaton writes, one "that may just be sustainable given the niches each one fills."

The main triggers powering this new trend, according to Slaton, are "the globalization of the game and the tearing down of historical publishing structures." He's right, of course, as satellite and cable television, Web publishing, video and audio streaming online, Facebook, and Twitter expanded access for soccer junkies almost everywhere.

Having spent almost twenty years as a sort of football academic, I wonder why this supposed "golden era" is happening right now. Are there some deeper, longer-term factors fueling this sudden explosion of bookzines?
Without traveling too far back in time, let's consider the growth of fanzines in Britain in the late 1980s. When Saturday Comes led the way and by 1997 there were more than 1,000 fanzines in circulation. Major League Soccer fans picked up on the trend right away. I remember as a graduate student looking forward to buying Chairman Mao — the New England Revolution fanzine — at the richly stocked Harvard Square newsstand. Fanzines democratized football writing and created a new community of authors and readers.

Similarly, the publication of three landmark football books did much to break down the walls separating journalism from academia. Trade publishers took notice of the gentrification of football and propelled what historian Matthew Taylor called the "literaturization of soccer." Bill Buford's Among the Thugs (1991) earned critical acclaim in the United States; Nick Hornby's Fever Pitch (1992) became, for good or ill, the best-selling football book of all time; and Simon Kuper's Football Against the Enemy (1994) almost singlehandedly invented the international football travelogue genre.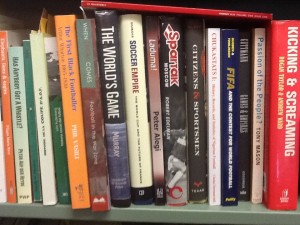 The commercial viability of and readers' taste for engaging books about football and society became increasingly evident with the release of, among others, The Miracle of Castel di Sangro (1999) by American true-crime author Joe McGuinness, the English translation of Soccer in Sun and Shadow (1999) by Uruguayan writer and activist Eduardo Galeano, and A Season with Verona (2002) by English expat academic Tim Parks. Moreover, the launch of When Saturday Comes Books blurred the boundaries between fanzines and commercial publishers with notable titles like Phil Ball's Morbo: The Story of Spanish Football (2001) and Ulrich Hesse-Lichtenberger's Tor! The Story of German Football (2002). Almost 1000 pages long, David Goldblatt's stunning The Ball is Round: A Global History of Football (2006) probably stands as the crowning achievement of the soccerati class.

Another factor influencing the mainstreaming of football books has its roots in the popularization of higher education over the past several decades and the concomitant (though gradual and uneven) acceptance of sport as a legitimate topic of intellectual inquiry. Many universities in Europe (not just Britain), North America, and Australia developed undergraduate and postgraduate courses and degree programs, built research centers, held conferences, and launched scholarly journals and book series.

What really struck me about Jonathan Wilson's desire to merge short- and long-form writing is how closely it mirrors my concerns and those of other scholars. The digital humanist Dan Cohen, for example, coined the term "blessay" ("It's not a tossed-off short blog post. It's not a long, involved essay. It's somewhere in between"). For my part, I have spent nearly two decades doing my bit to "popularize history." I write football books, act as historical consultant for films, museums, and websites, blog at Footballiscominghome.info, do media interviews, and tweet as @futbolprof. I have also come to enjoy collaborating with members of the Football Scholars Forum, an international online community and book club I cofounded in 2010 at Michigan State University. Academic publications helped me gain promotion and tenure, but digital scholarship also taught me valuable lessons. Like how to be a less lonely historian, be a more engaged scholar, and connect with people and ideas outside my fields of South African and African history and football studies.

Notwithstanding enduring differences in writing styles, standards of evidence, motivations, modus operandi, and other constraints, the long-term general trajectory may well be that "academia has become a little less snooty, and football has become a little more snooty," in the words of Andrew Guest, a contributor to XI Quarterly. The emergence of football bookzines represents the shared interests of dedicated journalists and scholars seeking to disseminate rigorously produced writing to transnational audiences and to have serious fun doing it.

Author's Note: I would like to thank Andrew Guest, Tom McCabe and Chris Bolsmann for their insights and comments on an earlier draft of this post. All interpretations, of course, are mine.