By Editor | March 3rd, 2015 | No Comments
This is the second post in Pelle Kvalsund's series rethinking Sport Development and Sport For Development. (Click here to read the first post.) Kvalsund is an international sport development consultant from Norway and a former athlete, coach, and physical education teacher. As a consultant for over 15 years, he has worked in many countries including Vietnam, Sri Lanka, Burundi, Zambia, and Bosnia. Pelle has served a number of international organizations, both within sport and the area of community development, and is currently an advisor for the Norwegian Olympic and Paralympic Committee and Confederation of Sport and their partners in the Global South. He is the author of "Sport as a Response to Emergencies and Disasters" in Sport, Peace and Development, edited by Keith Gilbert and Will Bennett (free download here). 
---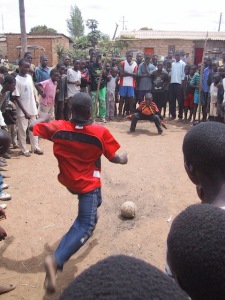 There are two main camps in sport development. The first believes that sport should be governed, administered, and developed exclusively by local, national, and international sport associations. Let's call this group "the custodians."
The other camp believes that the custodians have failed to fulfill their mandate and, as a result, sport needs a national boost through centrally driven sport programs for both youth and adults. Let's call this group "sport for all" (though some countries use other terms like "mass sport" and "fitness programs.")
Many countries combine the two forms of sport development, in addition to having non-governmental sport for development organizations and private sport academies operating in selected communities and districts.
Most football associations are "custodians." They claim absolute sovereignty in the management of football affairs even though they receive more financial support from governments than the other national sport associations. Substantial financial assistance  from FIFA and from sponsors, both parastatals (e.g. national breweries) and large private companies, help solidify this position.
Now, let's look at a typical football association's ability of to run all aspects of the game in their respective countries. While FAs view themselves as politically sovereign in domestic football matters, they are challenged by meager economic means (despite the aforementioned subsidies) and poor organizational infrastructure. These constraints make it difficult to prioritize, for example, development in rural areas. Furthermore, state and corporate funds are often earmarked for the best male players in elite programs, while the support from FIFA goes to capacity development of, in many cases, randomly selected leaders, coaches and referees. If any funding goes to grassroots development it is usually for youth national teams or FIFA-supported Football for Hope or similar corporate social responsibility initiatives.
Zambia, which won its first African Cup of Nations crown in 2012, is a case in point. The continental title was a great achievement, one that can be attributed to both historical factors (for the ones who know the history!) and a productive mix of talented young players, professional coaching staff, and capable leaders. It can also be attributed to a short systematic youth development approach put in place by Kalusha Bwalya, President of the Football Association of Zambia (FAZ). After pursuing his coaching training in the Netherlands, the former PSV Eindhoven and Zambia striker returned to Zambia in the early 2000s and became national technical director supervising a strong staff of coaches.
In spite of FAZ's successful grooming of a few individual stars, the national football system in Zambia appears quite bare in terms of organized youth development. With over 46% of the population below age 15 (5th youngest in the world in 2013) and about 2 million youth between the ages of 15-24 (according to NationMaster data [January 17, 2015]), one might assume Zambian coaches would have a rich supply of skilled footballers to tap into enabling them to produce consistent good results for national team. But that has not been the case.
Into this development vacuum stepped both private football academies and local NGOs that organize sport as a tool for development. It is these organizations that train many of the players that end up representing Zambia's top teams. While this is evidence that some of these academies and NGOs have been doing a satisfactory job creating opportunities for play and fostering talents, it also indicates that control and power to secure quality coaches, and to ensure players' personal safety and development is out of the hands of the FAZ.
I don't want to be overly critical of Zambian football because I know after many years of living in Zambia that FAZ and other national sport associations face numerous daunting tasks: from financing and operating capacity-building programs for coaches to managing myriad of leagues and tournaments for all the teams and clubs that train and develop players. It would, however, be interesting and worthwhile for them and other sport associations to assess their mandate and reexamine their approach to youth sport development.
Together with a few international sport federations' development programs, a contingent of Western governments (unfortunately, a decreasing number) continue to support both sport development and sport for development initiatives in Africa. One of the dilemmas these governments face is: How do you provide assistance? Do you work with dysfunctional sport associations ("custodians") in organizational capacity development so that they will eventually be able to run efficient youth sport for the masses? Or do you continue supporting government-driven and NGO-run sport-for-all programs that attempt to fill the gaps in the mandate left by the associations?