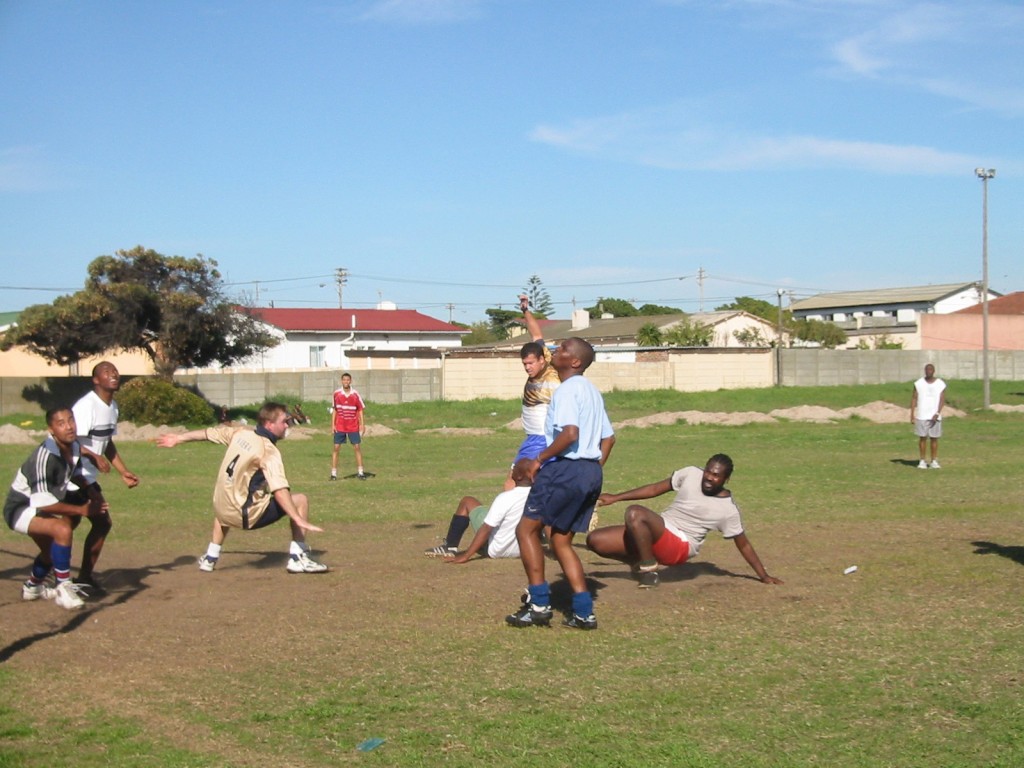 This site started out as a blog about the 2010 World Cup in South Africa and has evolved into a space for discussing and reflecting on issues in global football. Lots of analysis, video, links, and more or less regular original pieces.

The contributors are an eclectic bunch: Among others, we've played amateur football (one of us trained with a professional club), social leagues, and spent hours in front of the TV or on on the web for football news. Some of us are fully-minted football historians. Serious.

As for the blog-title: Don't read too much into it. It is just a cheeky spin on an English (meaning British) football slogan.

And Albert Luthuli was the first South African to win a Nobel Peace Prize. He was also the first black South African to win a Nobel Prize. More importantly, he was a football fan.

THE SQUAD

Peter Alegi is Professor of History at Michigan State University. He is the author of Laduma! Soccer, Politics, and Society in South Africa (University of KwaZulu-Natal Press, 2004) and African Soccerscapes: How a Continent Changed the World's Game (Ohio University Press, 2010). With Peter Limb, Alegi hosts the "Africa Past and Present" podcast. Follow him on Twitter @futbolprof.

Hikabwa Chipande is a lecturer in History at the University of Zambia in Lusaka. He is the author of "Chipolopolo: A Social and Political History of Football (Soccer) in Zambia, 1940s-1994," the first doctoral thesis on the topic, which he completed in 2015 at Michigan State University, U.S.A.

David Patrick Lane was conceived in Uruguayan territorial waters and raised in Liverpool. He has lived and worked in North America and the Middle East. He is presently hustling his way to South Africa. His headmaster was convinced he would be the next Brian Labone, but Osgood Schlatters ended his career at 16. Undeterred, Davy went on to orchestrate great victories in classic 19-a-side games on Brooklyn's Prospect Park. He once played against the great Oded Machnes on a Moshav in Netanya and has been involved in great games from the dirt tracks of Trablous to the barrios and beaches of Montevideo. Kids in Bed Stuy call him Coach D. Davy has been blogging on "the other football" since 2006. He follows Uruguay and will be adding flavour for "The Guardian" on Los Charruas during the World Cup. Look for @Los Charruas on Twitter. Davy is conducting research for a book on the African Diaspora and football, which he hopes to publish in advance of the 2014 World Cup in Brazil.

When he is not obsessing about Liverpool Football Club, Sean Jacobs is an assistant professor of international affairs at The New School in Manhattan, New York. He is completing a manuscript about postapartheid South African media culture in the age of globalization. He is a native of Cape Town and founder the Africa Is A Country website (@Africasacountry).

Mohlomi Maubane lives in Soweto, South Africa, and supports Orlando Pirates. He is an independent researcher and writer who works in TV and print media.

Liz Timbs is a PhD student in African history at Michigan State University. Her research interests are in the history of health and healing in South Africa; masculinity studies; and comparative studies between South Africa and the United States. She is the creator of Imbiza: Digital Archive of the 2010 World Cup. Follow her on Twitter: @tizlimbs.