By Editor | August 30th, 2012 | No Comments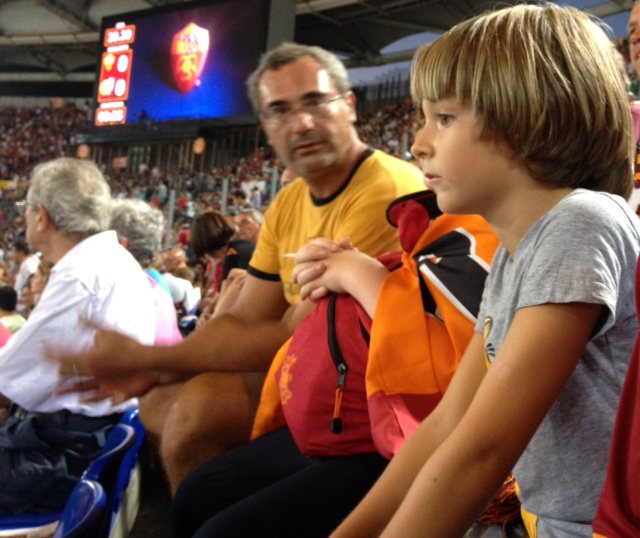 Guest Post by "Er Prof"

ROME–This past Sunday at the Stadio Olimpico I screamed in honor of Michael Bradley's first serie A match with "La Magica Roma." I howled so much during the 2-2 draw with Catania that I'm still hoarse three days later.

I am proud to say that I yelled only encouraging, positive things because I had my two boys, Alberto (age 9) and Luca (age 6), with me in the "Family" section of the Distinti Nord. (Long gone are my days with the Commando Ultrà Curva Sud.) In truth, I was also heeding my wife's warning that if the kids returned home swearing she'd kick me out of the house.

It was so beautiful to see Luca absolutely mesmerized by the stadium atmosphere and the chaos; Alberto got into it too, especially after we drew level and he started believing in a miraculous victory even more than me.

There are at least two ways to comment on what happened in this strange opening game of the 2012-13 season. The first draws on the "dietrologia" ("behindology") typical of the frustrated Romanista of the post-Capello era: "there you go, Zeman speaks the truth [about corruption and other ills affecting calcio] and those goddamn refs nail us immediately: Catania's two goals were ludicrously offsides; we were denied a clear penalty; and Osvaldo was, absurdly, deemed offside on a breakaway that would have, surely, resulted in a goal. Two stolen points to keep those Juve bastards calm and content."

Somehow I managed not to insult the referee for the entire ninety minutes, despite the time-tested knowledge that when in doubt referees always make important calls against us. It may sound like bullshit, but accepting this disgusting ("schifoso") state of affairs is a big step forward for us as we move towards a different future, one defined by clean, clear, decisive victories achieved in spite of crooked referees.

The second way to reflect on the game is calmer, the kind possible only after the game; it is more focused on the sporting side of things. In the first half, La Roma played like utter shite. The team seemed confused and also intimidated by Catania's toughness and fitness (a team with nine Argentineans!). Totti and Lamela were almost invisible; Bradley tactically too horizontal; De Rossi couldn't deliver a vertical pass; and Piris shanked every cross. In the second half, La Roma started playing more seriously, but only through Florenzi and the 19-year-old Uruguayan Nico Lopez did it become truly dangerous. Shortcomings aside, we deserved to win handily. And we would have had it not been for the five officials: five pairs of eyes that managed to miss amazing offsides on Catania's goals and an incredible handball in their box.

At halftime a child in our section asked his father why we were losing. The man replied with extraordinary wisdom: "because we were born to suffer" ("perchè semo nati pè soffrì"). That was a damn good answer, but the best line may still be the graffiti etched on a wall in our Eternal City: "VIVA LA PAZZA GIOIA D'ESSE ROMANISTIII" ("Long live the crazy joy of being Romanisti").